Despite believing his accusers, Alabama Gov. Kay Ivey plans to vote for Roy Moore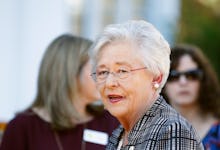 On Friday, Alabama Gov. Kay Ivey told reporters she plans to cast her ballot for Senate candidate Roy Moore — even though she claims to believe his accusers are telling the truth.
"I believe in the Republican Party, what we stand for, and most important, we need to have a Republican in the U.S. Senate to vote on things like the Supreme Court justices, other appointments the Senate has to confirm and make major decisions," Ivey said, according to AL.com. "So that's what I plan to do, vote for Republican nominee Roy Moore."
After the state's Thanksgiving turkey pardon event, Ivey told reporters she was "bothered" by the allegations against Moore, but that she had to weigh all the available information to make a decision.
"I certainly have no reason to disbelieve any of them," Ivey said about Moore's eight accusers. "The timing is a little curious. But at the same time, I have no reason to disbelieve them."
Ivey further explained that at the end of the day, what mattered most to her was having a Republican majority in the Senate.
"... The United States Senate needs to have, in my opinion, a majority of Republican votes to carry the day and when they have to consider other major decisions. So that's a factor, as well," she said.
Ivey isn't the only one standing by Moore. The Alabama Republican Party issued a statement Thursday announcing it would stick with Moore as its candidate of choice for the Senate race.
"The ALGOP Steering Committee supports Judge Roy Moore as our nominee and trusts the voters as they make the ultimate decision in this crucial race," chairwoman Terry Lathan said in the statement.  "Alabamians will be the ultimate jury in this election — not the media or those from afar."