What you've read about North Korea might be totally fake, but not for the reason you'd think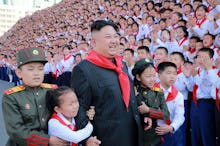 It's highly unlikely male university students in North Korea are required to get the same haircut as North Korean leader Kim Jong Un. The chances Kim actually banned sarcasm — or chose to execute his uncle by stripping him naked and feeding him to a hungry pack of dogs — are also incredibly slim. And it's just flat-out untrue that the country claimed to find an ancient unicorn lair in their homeland.
Still, several major news organizations such as the BBC and Business Insider reported it.
That's because North Korea has a real fake news problem. Whether it's outright manufactured lies or misconstrued facts — or even just unverified but believable claims — there's no shortage of eyebrow-raising rumors about Kim and the Democratic People's Republic of Korea.
"This is a big issue," Jenna Gibson, director of communications at the Korea Economic Institute of America, said in a phone interview. Gibson, who is researching how North Korea is covered in the media, said stories like these add to the "'Oh, look at Kim Jong Un, he's such a kooky guy'" narrative, which skirts the nuances of a society that much of the world is still grappling to understand.
"Obviously, [it's] just kind of a silly thing, but when that adds up and adds up, you get a completely different picture than what's the case in North Korea," Gibson said.
Reporting rumors
Few nations command the world's attention as much as North Korea. The mysterious, isolated source of nuclear threats and ever-advancing missile tests often translate into domineering headlines and doomsday speak.
Then there's the popcorn-munching that comes with heads of state publicly hurling tit-for-tat insults at each other — particularly Kim and U.S. President Donald Trump, both of whom are already the type of people who, let's just say, easily inspire caricatures.
"It always comes back to these quirky things about these leaders, especially because — and I totally understand this — they really capture our imagination," Gibson said.
The interest in North Korea is already well-established, but that can lead to a lot of newsroom pressure. Under time constraints and pressure to produce website traffic, unverified information about the DPRK can be a low-hanging fruit — and while not always intentional, news organizations can certainly get it wrong.
First of all, there's the reporting of believable but unverified information — which may or may not be problematic, depending on who you ask. Several established news organizations, for example, reported in October that 200 people "may have died" in collapsed tunnels at a North Korean nuclear site. The original source of that report was Japanese television network TV Asahi, but three weeks later, evidence proving the incident has yet to surface.
"I'm not saying it didn't happen, but I have yet to see any confirmation of that information from a reliable source," Gibson said.
Meanwhile, other stories — such as the death of Kim's supposed former girlfriend, singer Hyon Song-wol — were later debunked. It's further proof of how hard it is to cover the DPRK, a propaganda machine that only allows foreign journalists' entry under controlled, highly monitored circumstances.
"More often than not, you find that there's one or two people who are the basis for a story and there's no way of confirming it," Peter Ward, a former researcher at the Asan Institute and a scholar of the North Korean economy, said by phone. "Now that's the problem: The system [of North Korea] is just closed and we don't have very much verifiable information on it."
"Unfortunately, it's a part of the world that a lot of Americans don't know that much about, so they really rely on journalists to tell them what's going on, to tell them what's important," Gibson said.
Unverifiable, incorrect information can make its way into legacy news organizations through mistranslations — as was the case with the alleged unicorn den — as well as aggregation and paid news sources. Though many American news outlets hold editorial standards that forbid paying for interviews, Ward said he's heard of Eastern news outlets paying North Korean defectors as sources, which can be an issue if the individual feels like they need to compete for compensation.
"I don't have a problem with paying North Koreans for information; I think it's actually courtesy," Ward said. "Unlike a lot of Western journalists, I think it's a good idea to pay your sources if they're hungry or hard up. But, you know, if you're paying your sources, you have to ask them the kind of questions where there's no incentive to distort the answers in line with the interest of your paymasters."
South Korean news organizations might also put out news reports detailing disclosed rumors, but other outlets may fail to relay the news is mere speculation.
"It gets translated, it gets re-reported and that caveat disappears, and all of a sudden it's fact," Gibson said.
The real fake news
The truth is, the vast majority of coverage shouldn't actually be called fake news.
"I get the feeling that most coverage is rumor, conjecture and sort of sensationalism rather than just fake news," Ward said.
But that doesn't mean well-known fake news sites don't capitalize on Americans' interest in North Korea. One article on Your News Wire, for instance, claimed Kim accused the U.S. of wanting to take control of its poppy fields for opium. It was accompanied by an uncaptioned and terribly doctored image of Kim in an opium field — an obvious giveaway, even if one were to believe the horribly written text.
It's clear these fake news outlets are most interested in clicks. Their most egregious lies are always in the headlines, though the actual text might be loosely based on real events.
One fake news article, for example, claimed in a headline the Pentagon announced an "imminent ground invasion" against North Korea, though the story's actual text revealed the site was just talking about a letter from a U.S. Navy admiral that detailed hypothetical casualty estimates in the event of a war. Meanwhile, another headline from fake news outlet the New York Evening alleged Trump had struck North Korea, but the story itself clarified it was a "virtual strike" — in other words, just another of Trump's hostile tweets.
Then there are articles peddling more overt lies: false claims that a North Korean man killed a woman at a Tennessee Walmart after she made a racist joke about rice cookers, or findings from a nonexistent polling source that alleged Trump voters are more scared of the Black Lives Matter movement than they are of North Korea.
One article even used real aerial photos taken in the DPRK by a Singaporean photographer to falsely claim North Korean capital Pyongyang was evacuated "in preparation for an all-out nuclear confrontation with the West." In Mashable, however, the same photos merely depicted a "virtually empty ghost town."
Many of these articles tap into already mainstream narratives depicting a wild, trigger-happy North Korea and a planet on the brink of World War III. But outright fake news is far from ordinary when it comes to reporting on the DPRK, according to Ward and Gibson, and there are plenty of journalists who do report responsibly.
"What we need is more human-level reporting on North Korea and less sensationalism — and also more nuance," Ward said. "It's not a very nice country, I understand, but it's a country where people live and that's something we should focus on a bit more. There's too much focus on the nuclear issue and there's not enough nuance."