Cyber Monday 2017 Deals: The best Amazon, Walmart, EBay, Etsy & Old Navy offers, flight deals & more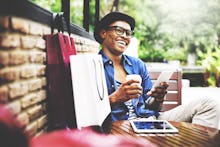 Any stealthy online shopper knows the discount force will be with them on Cyber Monday and that the sales this year could be epic. While plenty of hearty souls brave the crowds for doorbuster sales on Black Friday, others stay home and dive head first into the digital shopping event known as Cyber Monday instead.
In fact, 71% of consumers say they'll shop on Cyber Monday, according to an offers.com 2017 holiday shopping data survey. It's also expected to be the largest online shopping day in history, with $6.6 billion in sales, according to Adobe Digital Insights. Most of the bargain hunters are millennials, with 95% saying they'll use their mobile device to browse and make purchases, according to offers.com.
If fighting with strangers at the store for the last Marvel super hero action figure isn't your jam, the good news is you can still land amazing deals online: "The only place you should line up on Thanksgiving afternoon is on the line of scrimmage for a family football game," Shep McAllister, editor of Kinja Deals told the New York Times. "Basically every deal you can get in stores will be available online, and usually matched by multiple other retailers. There are still a handful of doorbusters that are really and truly brick-and-mortar only, but they're typically low-quality products that you should probably avoid anyway."
How to save money on Cyber Monday
Before you dive into the best specific deals around, it's smart to have a game plan. While discount-seekers can save a decent amount of cheddar online, knowing where and how to shop can save you even more. Black Friday deals arrived earlier than ever in 2017, and the same is true of Cyber Monday sales. Sunday, Nov. 26, is actually the best day to get discounts, and you need to act fast — many offers are for limited quantities that sell out fast. Some deals start even earlier: EBay's sale starts at 5 a.m. on Saturday, Nov. 25, for example.
That said, while early birds are often rewarded, know that you can often actually get a better deal on Cyber Monday than on Black Friday, including on clothing, shoes, technology accessories and even travel, offers.com reported. However, you might want to be more cautious with fitness equipment, furniture, laptops and high-end gaming consoles, as some of these products are better priced on Black Friday or after the holidays.
One cool thing about Cyber Monday? While Black Friday tends to be best for heavy hitters like Amazon, Kohl's and Target, on "Black Monday" you can also expect deals from smaller retailers, like Cole Haan, Crocs, Levis and the Body Shop, as well as some online only deals from big names like Old Navy.
Of course, the big retailers are hardly bowing out. Target recently announced Cyber Monday shoppers can take 15% off their entire site, beginning early Monday morning. Special "digital daily deals" will extend throughout the week. And while Amazon had yet to announce its deals at press time, it historically offers discounts as impressive as those on Black Friday, Forbes reported.
Lastly, don't forget to check shipping fees and return policies, as many are quite generous during the holiday season. Using a price comparison tool such as PriceGrabber or Honey can also help you get the best deal. If you just want to quickly check offers from your favorite retailer, check out cybermonday.com.
Deal-thirsty buyers should stick to online sellers they know, as shopping based on price alone could land you a counterfeit product without a factory warranty: "The interesting thing about always buying based upon the lowest price is that you don't often know whom you're buying from," said Andrew Schydlowsky, founder of internet brand market data company TrackStreet, in an email. No one wants a cheap knockoff in their stocking.
The best Cyber Monday 2017 deals
Since speed will work in your favor, having a plan and knowing which retailers to hit up could help you save time and money. Without further ado, here are categories where are you bound to find a good offer — plus some of the best specific deals we could find at each retailer.
Technology
Amazon: While, again, this year's deals are not yet public, based on last year's offers, you can expect to save money on electronics, toys, movies, and more — including free digital goods (like Android apps and audiobooks), according to DealNews — as well as $15 to $100 off products like the Sony PlayStation 4 1TB Console, Amazon Fire TV Stick with Alexa Voice Remote, Microsoft Xbox One S 500GB Console, or Amazon Echo Dot, according to Forbes. Here is Amazon's main Cyber Monday landing page, which you can bookmark and periodically check when the time comes.
EBay: For those in the market for a new headset on Cyber Monday, check out Jabra earbuds for 64% off. If a full headset is what you seek, take 40% off a HyperX headset.
Google: If you've always wanted a cute Google Home Mini, now seems to be the best time to pounce. You will be able to pick one up for only $29 (regularly $49), plus, add a $10 store credit to lower the price to $19. Or get a Google Home for $79. Google will also lower the price of its Chromecast from $35 to $25.
Newegg: Deal hunters can get some serious discounts throughout the Newegg site, such as 71% off a pair of Klipsch noise-isolating headphones, for a final price of $99.99.
Travel
Rather than giving a "thing" for the holidays, consider surprising that special someone with a trip. Check prices on apps like Priceblink or Hopper or nab these deals right now.
Expedia: You can get up to 90% off on select hotels, the New York Times reported, but only if you shop from 12 p.m. to 7 p.m. Eastern on Nov. 27 and use the Expedia app. If you log onto the site, however, you'll just get 50% off. Expedia is also offering $100 off on $1,000 travel packages, plus you can get a $100 credit for a hotel stay if you book a cruise through Expedia.
Priceline: If you subscribe to Priceline's email insider, you can participate in the 24-hour Cyber Monday sale, where you can get 10% off express deal hotels, $25 off a minimum 4-star hotel, $50 off a $200 hotel or $600 off a $1,200 hotel stay, only available in the Priceline app.
Resort deals: Some specific resorts are offering discounts and deals on Cyber Monday, too. For instance, Velas Resorts has rates starting at $161 at Velas Vallarta, $241 at Casa Velas, $291 at Grand Velas Riviera Nayarit, $427 at Grand Velas Riviera Maya and $457 at Grand Velas Los Cabos.
The Cloister at Sea Island is offering 90% off one night to guests who book three or more nights from Jan. 2 to Feb. 28, the New York Times reported. Also, Viceroy Hotel Group properties are offering nightly rate discounts between 30% to 40% if you stay between Nov. 27 through December 2018.
Home accessories and kitchen appliances
Some kitchen accessories and appliances may be on sale Monday, including some with a more creative flavor.
EBay: If you are searching for the ultimate chef's gift, consider a KitchenAid mixer for only $200 (regularly $400). Or get 77% off a Cuisinart 12-cup programmable coffee maker.
Etsy: Looking for something with more of a creative flair and personal touch? Etsy is holding its first ever Cyber Week sale, where you can save up to 60% on select items. Buyers can explore personalized mugs and glassware, kitchen accessories like creative bottle openers and coasters or even a cool house number plaque.
Walmart: Need a shock-and-awe gift for your favorite cook? You can save $30 on a programmable slow cooker from Crock-Pot, for a final price of $49.99. Look for more Cyber Monday deals on the site after Black Friday.
Clothes and shoes
In some cases you can get up to 50% off on everything at some of the major clothing retailers, offers.com reported. However, some of the boutique apparel retailers also have some smoking-hot deals you shouldn't miss:
Ali and Jay: You can score 30% off select styles, plus 30% off sale items using code ITSNOTOVER.
Bailey 44: Buyers can browse the fashions and get up to 40% off select styles. Plus, you can get 30% off sale items using code CYBERMONDAY.
Etsy: Have fun with fashion during Etsy's Cyber Week special and pick up funky tees, earrings and men's fashions and accessories. Even the kids can get in on the fun.
My 1st Years: Do you need something for a little one? You can outfit the baby in your life and get 30% off throughout the site, 50% off on select styles using code CYBER30 on Nov. 27 only.
Old Navy: You can outfit the entire family with 50% off everything online. Check out a hot pair of rock star jeans for women or one of the cozy mens' flannel shirts.
Finally, before you shop Cyber Monday, take important steps to protect yourself, such as paying with a credit card and making sure you are shopping at a legitimate retailer. You can also save even more using these smart online shopping tips, too.
Sign up for the Payoff — your weekly crash course on how to live your best financial life.