Report: 8 women accuse journalist Charlie Rose of sexual harassment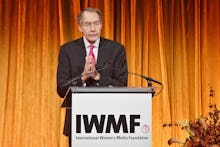 Eight women have come forward to accuse longtime CBS This Morning host Charlie Rose of sexual harassment, the Washington Post reported.
The women, who were all employed by or aspired to be employed by Rose, accused the television icon of "lewd phone calls, walking around naked in their presence or groping their breasts, buttocks or genital areas," the Post reported. At the time of the encounters that they described, the women ranged in age from 21 to 37.
Reah Bravo, who was an intern for Rose before becoming an associate producer, told the Post that Rose made uninvited sexual advances toward her while she worked for him at his private home in Bellport, New York, and while traveling with him.
"It has taken 10 years and a fierce moment of cultural reckoning for me to understand these moments for what they were," she said. "He was a sexual predator, and I was his victim."
Kyle Godfrey-Ryan told the Post there were at least a dozen times when Rose walked nude in front of her while she worked in one of his homes. At the time she was one of his assistants. Godfrey-Ryan also said Rose called her repeatedly early in the morning or at night to describe his fantasies of her. At the time she was 21 years old.
"It feels branded into me, the details of it," Godfrey-Ryan told the Post.
Megan Creydt, who worked as a coordinator on Rose's show from 2005 to 2006, told the Post the host touched her thigh while they drove in his car.
"It was quite early in working there that he put his hand on my mid-thigh," Creydt said. "I don't think I said anything," she added. "I tensed up. I didn't move his hand off, but I pulled my legs to the other side of the car. I tried not to get in a car with him ever again. I think he was testing me out."
In total, three women spoke on record while five others spoke on the condition of anonymity.
In a comment to the Post, Rose apologized but stopped short of admitting any of these accounts to be factual.
"In my 45 years in journalism, I have prided myself on being an advocate for the careers of the women with whom I have worked," Rose's statement said. "Nevertheless, in the past few days, claims have been made about my behavior toward some former female colleagues. It is essential that these women know I hear them and that I deeply apologize for my inappropriate behavior. I am greatly embarrassed. I have behaved insensitively at times, and I accept responsibility for that, though I do not believe that all of these allegations are accurate. I always felt that I was pursuing shared feelings, even though I now realize I was mistaken."
Rose added that he has "learned a great deal" from these events and hopes others will as well.
"All of us, including me, are coming to a newer and deeper recognition of the pain caused by conduct in the past," he said, "and have come to a profound new respect for women and their lives."