Mic Wakeup: XL Pipeline approved, Rose accused of assault and Conway wants you to vote for Moore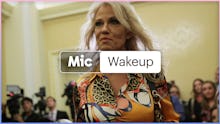 It's Tuesday, Nov. 21. Here are three stories you need to read.
Nebraska approves construction of the Keystone XL Pipeline
The Nebraska Public Service Commission approved construction of the Keystone XL Pipeline on Monday, just days after an existing portion of the pipeline spilled more than 210,000 gallons of oil in North Dakota.
Nebraska's approval, which passed 3-2, will finally connect the project from Alberta, Canada, to its final destination along the Gulf Coast. While President Donald Trump has personally lobbied for the pipeline's construction, not everyone else is happy with the prospect of hundreds of thousands of gallons of oil flowing through the United States every day.
"We will appeal," Jane Kleeb, an environmental activist, told Politico. "We will challenge a foreign corporation being given eminent domain in the county courts, with every intent to bring it to the Supreme Court if needed."
Eight women accuse Charlie Rose of sexual harassment
Eight women have come forward to accuse famed journalist and television host Charlie Rose of sexual misconduct.
According to the Washington Post, the women each either worked directly for Rose or aspired to work for one of his television programs.
"It has taken 10 years and a fierce moment of cultural reckoning for me to understand these moments for what they were," Reah Bravo, who was an intern before becoming an associate producer for Rose, told the Post. "He was a sexual predator, and I was his victim."
The allegations range from lewd phone calls, to walking around naked in front of the women to inappropriate touching. In a statement, Rose said he "accepts responsibility" for his actions.
"In my 45 years in journalism, I have prided myself on being an advocate for the careers of the women with whom I have worked," Rose's statement said. "Nevertheless, in the past few days, claims have been made about my behavior toward some former female colleagues. It is essential that these women know I hear them and that I deeply apologize for my inappropriate behavior. I am greatly embarrassed. I have behaved insensitively at times, and I accept responsibility for that, though I do not believe that all of these allegations are accurate. I always felt that I was pursuing shared feelings, even though I now realize I was mistaken."
Kellyanne Conway still wants you to vote for Roy Moore
Kellyanne Conway is putting party over what's right when it comes to Roy Moore and she wants voters in Alabama to do the same.
On Monday, while making an appearance on Fox News, Conway explained that if Democratic candidate Doug Jones wins, he will not vote in favor of Trump's tax plan.
"He will be a vote against tax cuts," she said. "He is weak on crime, weak on borders. He is strong on raising your taxes. He is terrible for property owners."
When asked directly if she believes people should vote for Moore, she simply stated, "I'm telling you that we want the votes in the Senate to get this tax bill through."