Trump administration ends provisional residency for 59,000 Haitians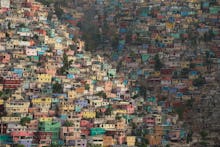 On Monday, the Trump administration announced plans to end a provisional residency program for 59,000 Haitians living in the United States. They now have just 18 months to become naturalized citizens or leave the U.S., according to the Los Angeles Times.
The decision was made after the Department of Homeland Security determined that the "extraordinary conditions" resulting from the 2010 earthquake that struck Haiti "no longer exist," according to a senior administration official who spoke to the Washington Post.
That earthquake killed an estimated 316,000 people. Haiti is the poorest country in the Western Hemisphere and, although the earthquake happened more than seven years ago, the country is still reeling from its impact and continues to battle a deadly cholera epidemic, reported the Post.
According to the senior administration official, acting DHS Secretary Elaine Duke had reviewed extensive research and heard from both the U.S. and Haitian government officials, concluding that "extraordinary temporary conditions... had sufficiently improved such that they no longer prevent nationals of Haiti from returning."
According to the U.S. Citizenship and Immigration Services, the secretary of Homeland Security may designate a country for Temporary Protected Status due to "conditions in the country that temporarily prevent the country's nationals from returning safely, or in certain circumstances, where the country is unable to handle the return of its nationals adequately," typically due to natural disasters or other humanitarian crises. Currently, there are 10 countries eligible for protective status: El Salvador, Haiti, Honduras, Nepal, Nicaragua, Somalia, Sudan, South Sudan, Syria, and Yemen.
Those from Haiti specifically living under protective status must leave the U.S. by July 22, 2019 or face arrest.