Additional remains of Sgt. La David Johnson found in Niger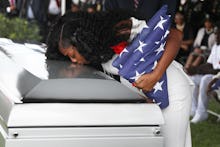 U.S. officials on Tuesday confirmed that additional parts of U.S. Army Sgt. La David Johnson's body were discovered in Niger on Nov. 12.
According to ABC News, Johnson's additional remains were discovered by U.S. military and FBI officials investigating in the region.
He was one of nine soldiers killed — four from the U.S., five from Niger — during an ambush and subsequent gunfight with ISIS-affiliated forces operating in the region on Oct. 4, according to CNN.
The discovery of Johnson's additional remains raised more questions about how he died and how his body was handled by military officials.
Air Force Mortuary Affairs Operations, which handles the transport of soldiers killed overseas, said it's unfortunate but not unusual to find additional remains of fallen service members after they've been laid to rest during funeral services.
"In the event there is an incident where service members' remains are recovered, there are times where there could be what we call 'subsequent portions,'" Christin Michaud, chief of public affairs for Air Force Mortuary Affairs Operations said in a phone interview Tuesday. "When they're doing search and recovery, often they don't find all of the remains at one time."
Following his funeral services in Hollywood, Florida, on Oct. 21, Johnson's widow, Myeshia Johnson, questioned why she wasn't allowed to view her late husband's remains.
"Why couldn't I see my husband?" Myeshia Johnson asked Good Morning America anchor George Stephanopoulos on Oct. 23. "They won't show me a finger, a hand. I know my husband's body from head to toe, and they won't let me see anything."
Myeshia Johnson also questioned if it was her husband's body in the military casket that was buried following his funeral.
"I don't know what's in that box," she said. "It could be empty for all I know, but I need to see my husband. I haven't seen him since he came home."