Career Advice: This is the best month and time of year to apply for a new job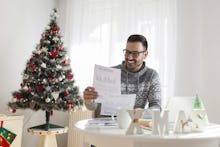 Job seekers who think December is worst time of the year to hunt for work may need to rethink their strategy, as some recruiters say the holidays are the best time to find new hires. Rather than taking a break from the search because you think decision-makers are too distracted with holiday parties and vacation, it's actually smart to ramp up your efforts.
"Most people looking for a new job tend to think the holidays is a good time to take a break," Doug Matthews, president and CEO of Career Partners International, said in a press release. "This is never a good idea. In my 30 years working with candidates in outplacement, December is one of the strongest months to receive job offers."
In fact — despite some advice that says February and January are the best months to find a job — if you wait until the new year, you may miss a great opportunity. Why? Competition increases after the first of the month, Vicki Salemi, career expert at Monster, said. "Recruiters also have more time to focus on your application during the holidays because it's a little slower and they receive [fewer] resumes."
Want even more specific advice? Submitting your application on a Monday or Tuesday seems to be a sweet spot to get a reply, some data suggests.
Why job hunters have an advantage during the holidays
Candidates may also have more flexibility to schedule interviews and scour job sites for the right position too, especially if you are still working. "Take advantage of down time at work," Salemi said. "The holidays may be ideal for getting out to an interview if work is a little slow, plus recruiters may have more availability to book time too if they are looking at fewer applicants."
CareerBuilder found end-of-the-year hiring is on the rise, along with an increase in placement and salaries. "In a recent CareerBuilder survey, we found that 43% of employers plan to hire full-time, permanent employees in fourth quarter, up from 34% last year, with 73% planning to increase salaries," Ladan Hayes, CareerBuilder's career adviser, said in an email.
Why else is holiday hiring so hot? As with any sales- or goal-based position, recruiters have budget and new employee numbers to hit before the beginning of the next year. This means the incoming pool of applicants during the holidays are vital to the hiring manager reaching their goals.
Still hesitant to apply for a job that looks good? Here's one reason why you shouldn't delay. "In some cases, job postings will simply close out by the end of the year and no longer be available if the interest is not there," Salemi said. "So job seekers could be missing an opportunity by not applying or waiting until January."
With this in mind, here's how job hunters can maximize their time over the holidays to land that ideal position.
Work those holiday parties
People are in a festive mood and may be more receptive to making connections during holiday gatherings. Attend professional or community organization holiday parties to work and expand your network. This could include your local chamber or charity events.
"Holiday parties can be a great place to network and reach out to connections to see if they know of job openings in your industry," Hayes said. "Bring your business cards, and be sure to follow up with people you talk to."
To make the best impression on potential employers, dress professionally, don't let shop-talk dominate the conversation, stick to light banter and avoid overindulging on alcohol, according to Entrepreneur.
Update your resume and LinkedIn profile
If you haven't updated your resume in a while, now is the time to take make sure it's up to snuff.
This means customizing your resume to fit each prospective employer's needs instead of sending the same static resume in the hopes it entices every employer. Study the company and job posting, so you can feature experience you have that matches what the job requires.
Your resume should also be designed specifically to your industry. For instance, if you work in a creative field like video game design, you could create an interactive game that features your skills. For other helpful examples, check out these three ideas.
Also, when writing a resume or cover letter, steer clear of office buzzwords like calling yourself a "rock star employee" or using terms like "salary negotiable" or "objective" on either document. Your objective is to land the job. Employers won't talk about money until it's time to negotiate, so adding them only looks like you are trying to take up space.
Maximize your cover letter and resume using specific examples, like when you managed a team of five employees and boosted sales by 15% in six months.
Furthermore, don't forget to update your LinkedIn profile with your current position, and privately let recruiters know you are open to being contacted.
Be strategic about when to apply for the job
Even though you may be in a better position to land a job during holiday down time, you can maximize your application profile by following a few steps.
One smart move is to send your resume first thing in the morning instead of waiting until after work. Recruiters say once the day gets started, sifting through applicants becomes more difficult as emails and other demands mount. Send your resume before 10 a.m. at the latest, or even better, send it at 6 a.m. Keep employer time zones in mind so you hit theirs early enough if you live in a different location.
Trolling online hiring sites on a regular basis is also smart, as you have a better chance of getting an interview if you respond to an ad within the first two to four days of it being posted.
And if you are still trying to find that ideal career, here's some advice on what to consider when making a career change.
Sign up for the Payoff — your weekly crash course on how to live your best financial life.