Former ethics director files complaint against Kellyanne Conway for her Roy Moore interview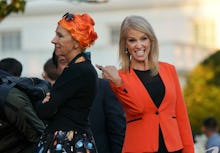 Walter Shaub, the former director of the Office of Government Ethics, filed a complaint against White House counselor Kellyanne Conway, alleging she violated the Hatch Act when she gave an interview supporting
The Hatch Act prohibits government employees from engaging in political activity in their official capacity.
Shaub contends that Conway violated this rule when she gave an interview to Fox News from the White House lawn, in which she attacked the Democratic nominee in an upcoming Senate special election in Alabama in an apparent effort to bolster Republican Roy Moore's candidacy.
"I have filed a complaint with the U.S. Office of Special Counsel, which investigates Hatch Act violations," Shaub tweeted Wednesday morning.
Shaub pointed to a Hatch Act violation by Julián Castro, the secretary of Housing and Urban Development under former President Barack Obama.
Castro was found to have violated the Hatch Act by advocating for a presidential candidate in his official role as an executive branch official in April 2016.
Shaub says that under that standard, Conway also violated the law.
"I found the video. She's standing in front of the White House. It seems pretty clear she was appearing in her official capacity when she advocated against a candidate," Shaub tweeted. "This is at least as clear a violation of 5 U.S.C. § 7323(a)(1) as OSC identified with regard to Castro."
The only penalty for a Hatch Act violation is removal from office. Castro was not removed from office for the violation, and it's unclear whether Conway would be — should she be found in violation of the law.
This is not the first time Conway has gotten into hot water for violating ethics rules.
In February, the OGE said they "strong reason to believe" that Conway violated ethics rules when she hawked first daughter Ivanka Trump's clothing line on television. Federal ethics rules bar government employees from using their positions to promote the financial interests of friends or relatives.
However the Trump administration chose not to discipline Conway for that violation.