12-year-old Tamir Rice was killed by police three years ago today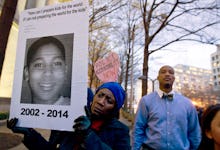 On Thursday, Samaria Rice will endure her third Thanksgiving without her son, Tamir Rice, who was shot and killed by police three years ago today.
Twitter users made the hashtag #TamirRice a trending topic Wednesday as they honored the slain African-American boy and reflected on the disturbing events that preceded and followed his death.
Rice was seen wielding a pellet gun outside Cudell Recreation Center in Cleveland on Nov. 24, 2014, before a bystander called 911 and told the dispatcher the boy was pointing a firearm at random people, adding that the weapon was "probably fake."
The dispatcher failed to relay that last detail to Cleveland police officers Frank Garmback and Timothy Loehmann, who responded to the call, pulling up on Rice in their squad car as he stood near an outdoor gazebo.
Within two seconds of arriving at the scene, Loehmann shot Rice once in the stomach. Both officers declined to give the boy first aid as he bled to death on the snow-dusted ground.
When the boy's then-14-year-old sister, Tajai Rice, ran to try and help him, the officers who shot her brother tackled her and put her in a squad car. They also threatened to arrest Rice's mother when she arrived on the scene not long after.
When Cleveland Browns wide receiver Andrew Hawkins wore a "Justice For Tamir Rice" T-shirt before the start of an NFL game in December 2014, then-outgoing Cleveland Police Patrolmen's Association president Jeff Follmer threatened to pull police detail from the Browns' football games, telling MSNBC reporter Chris O'Donnell that Rice's killing was "justified" and a "clean shoot."
Six months after the boy's death, Samaria Rice had her son's body cremated. In response to a wrongful death lawsuit filed by the family, the city of Cleveland argued the 12-year-old caused his own death before ultimately deciding not to indict the officer who shot him.
The city later agreed to pay Samaria Rice $6 million in a settlement that did not require an admission of guilt on the city's part. That same day, Cleveland's next police union boss, Steve Loomis, told reporters Rice's mother should donate the money to gun education. (On Tuesday, Loomis lost his re-election bid to Follmer, who will return to the post.)
Ten months after the settlement, the city of Cleveland sued Rice's mother for her son's $500 unpaid ambulance bill.
It took nearly three years for Cleveland police to fire the officer who shot Rice. He was never charged with a crime and therefore remains eligible to get another job as a police officer, even though he was fired earlier in his career after being deemed unfit for duty.
On Tuesday, activist Amanda King released a video titled "Letter to Tamir," narrated by and starring Samaria Rice.
Tamir, my beloved son," Samaria Rice said. "Know that your family misses you dearly and we wish we could see touch and kiss you one more time. You will always be forever in our hearts and we miss you deeply."
"You are our bright shining star," Tamir Rice's mother added. "Know that the world knows your name forever. Tamir Rice. Love, mom."