Mic Wakeup: Everything you need to get ready for Black Friday and Cyber Monday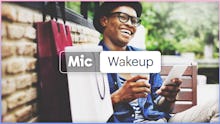 It's Thursday, Nov. 23. Here are three stories you need to read.
Here are a few tricks to ensure you're getting a great Black Friday deal
Getting up on Black Friday to go shopping with thousands of other people may sound like a nightmare, but it can be totally worth it so long a you score a good deal. And getting that great deal all comes down to understanding a few key tips and tricks.
First, make sure to plan ahead and know what you want to buy before you head to the stores. "The best way to prevent yourself from overspending is to not only come up with a budget, but to itemize it," Lindsay Sakraida, DealNews director of content marketing, told Mic.
Before you head out the door, make sure to take some time to search around the internet for your desired items to ensure you know the fair market value and whether you can get a better deal by purchasing online.
Check out more tips on saving big during the holidays.
Remember, you might not be getting the best deal by shopping on Black Friday
Yes, there's a big sign flashing "sale!" on every storefront, but that doesn't always mean you're getting the best deal. In fact, according to a 2017 WalletHub analysis, some "sale" items aren't really on sale at all.
"The red cardigan sweater with the ruffled neck on sale for more than 40% off at $39.99 was never meant to sell at its $68 starting price," the Wall Street Journal reported. "It was designed with the discount built in."
So how can you make sure you're getting an actual deal? Make sure to read the fine print, such as "for a limited time only," which can literally mean it's only on sale for a few hours on Black Friday, or in extremely limited quantities.
Try not to fall for "door buster deals," or any other hype retailers attempt to sell you this Friday. "Door crashers are also an important tool for retailers on Black Friday, building hype and urgency, attracting crowds of bargain hunters and giving an impression of store-wide bargains – yet the reality is often a very narrow range of discounts and even products billed as door crashers may not be especially good deals," researchers with Vancity, a Canadian credit union, wrote in a 2014 report.
Here are a few other ways to ensure you're not getting duped this shopping season.
Maybe even just wait until Cyber Monday
It may be tempting to run out of your house to go shopping on Black Friday (especially if you're trying to escape your relatives), but if you're truly on the hunt for a bargain, bide your time and wait it out until Cyber Monday. That's when tech giants like Amazon and eBay present their enormous sales, along with smaller retailers looking to cash in on the fact that you're shopping at work rather than, you know, working. And if you happen to be looking for a travel deal for a much-needed personal holiday after the holiday, airlines, cruises and guided tour companies will be offering deep discounts, too.
Check out all the Cyber Monday deals so you can make a mental checklist of all the sites to explore for holiday gifts.