FBI's "black identity extremists" label is ill-advised, the nation's largest black police group says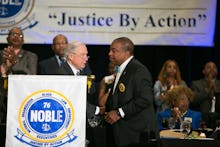 A broad label created by the FBI's counterterrorism division to profile black dissidents who may express violent sentiments toward police is damaging to the black community, the nation's largest group of black law enforcement leaders say.
The label — "black identity extremists" — became public in October when Foreign Policy published a leaked copy of an FBI intelligence assessment. The assessment created shockwaves among black civil rights leaders, black legislators and through grassroots movements like Black Lives Matter.
The FBI has been unable to provide convincing rationale for the label to exist at all, Clarence Cox, president of the National Organization of Black Law Enforcement Executives, said in an exclusive interview with Mic on Monday.
"Basically they were saying [the black identity extremist label] was designed for officer safety," Cox said, referring to conversations between black law enforcement leaders and FBI officials. "My pushback was that the majority of the folks that they referred to in that document were either dead or incarcerated, so I didn't see the value of law enforcement safety with that document."
As a result of its meetings, NOBLE is joining a chorus of black leaders, including members of the Congressional Black Caucus and the NAACP, in calling for the FBI to trash the BIE designation and refrain from using it in future counterterrorism assessments. It's also asking FBI Director Christopher Wray to consult with law enforcement experts who are familiar with black communities and to double efforts to make the agency's ranks more racially diverse.
"I made it very clear that the FBI is lacking diversity in its leadership," Cox said of a recent meeting with Wray. "If he had some diversity in that leadership, when they discussed a document such as this, it probably would have had some pushback and they would have rethought it before they published it."
Cox added that he felt the FBI director "got it" and seemed to agree on principle with his concerns about the BIE report. "I feel like he has a desire to correct it and make it better," he said.
On Monday, a FBI spokesperson declined to comment about private meetings between the director and NOBLE leaders.
The bureau's BIE report claims it is tracking killers like Micah Xavier Johnson, who shot and killed five police officers in Dallas, Texas, in July 2016. But it has never been established that Johnson, who was killed after his assault on the officers, ever belonged to an extremist group. Meanwhile, black activists, including those associated with the BLM movement, say they have already received visits from the FBI about their organizing and protests against police brutality.
Concerns over this type of profiling and surveillance in the black community aren't unfounded. During the FBI's J. Edgar Hoover era, the agency actively targeted black civil rights activists such as the Rev. Martin Luther King and members of the Black Panther Party under COINTELPRO — a program that often resulted in deadly consequences. The program also created insurmountable trust issues within organizations and, in some cases, slowed the movement's momentum.
"I didn't feel that this BIE intelligence was healthy for the conscience of our country and, particularly, of African-Americans," Cox said in the phone interview. "It reminds me so much of what we went through as African-Americans, or what civil rights leaders went through, when they were unconstitutionally targeted by state, federal and local agencies."
Cox currently serves as director of special projects in the office of the chief for the Fulton County Police Department in Georgia. He was an original member of Georgia's homeland security task force created after the September 11 terror attacks in New York City and Washington.
Cox said NOBLE, which boasts a membership of over 3,000, plans to soon publish a memo detailing its concerns over BIE and its recommendations to the FBI.
Attorney General Jeff Sessions' Nov. 14 testimony to the House Judiciary Committee renewed attention on BIE. Black lawmakers — namely Representatives Karen Bass of California and Sheila Jackson Lee of Texas — took Sessions to task over the FBI's counterterrorism assessment.
Bass and Lee, echoing the concerns of BLM movement activists, said the label is a pretext for high-tech surveillance, criminalization and brutality against today's black organizers. Sessions said he hadn't read the report, but wryly expressed interest in reviewing it.
"They usually do an excellent job — objective and fair — in those kinds of reports," Sessions said in response to Bass' request that the Justice Department trash the report.
On Monday, Cox, the NOBLE president, said Sessions' testimony raised serious questions about his stewardship over the Justice Department. "As a leader, you should not have something as vital, something that could really erupt the community, as much as this document has, and you not know anything about it," he said.
"Shame on the folks who surround him, if they didn't make him aware of that," Cox added.
Nov. 27, 2017, 8:18 a.m. Eastern: This story has been updated.