10 jobs with the biggest pay increases — plus 10 with shrinking salaries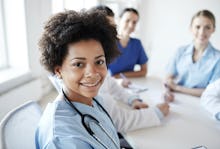 The future of health insurance in the United States may be up in the air for now, but one thing is sure: Working in the medical profession is still one of the best career choices you can make in terms of income growth. At least that is the finding from a new report by SmartAsset, which used data from the Bureau of Labor Statistics to find the jobs where pay is increasing the fastest.
Orthodontists and anesthesiologists saw the highest salary gains, with psychiatrists, surgeons, general practitioners, postsecondary health specialties teachers and genetic counselors all making it into the top 10. "We were surprised to see just how large the income growth was in certain health care occupations," A.J. Smith, vice president of financial education for SmartAsset, said in an email. While the average raise across all 815 occupations examined from 2012 and 2016 was $4,540, incomes in the medical professions rose by at least $19,000 during that same period. 
One takeaway from the study is that pursuing an advanced degree in the health fields might be a wise money move. (Although considering that among medical students who take on debt, the typical graduate owes nearly $200,000, you might want to crunch the numbers before you start studying for the MCAT.) What's more, fast-rising salaries are an indication of increased demand, which bodes well for job security. The Association of American Medical Colleges predicted that the U.S. will have a shortage of just over 90,000 physicians by 2025.
On the flip side, salaries are actually shrinking in occupations with lower demand, including fishers, postal clerks and translators, as automation takes over some of those occupations.
Postal service clerks, for example, have a 95% likelihood of being automated within the next 20 years, according to NPR's job automation calculator. Compare that to orthodontists, who have only a 2.3% chance of seeing their job automated. (After all, no one wants a robot tightening their braces.)
Pros and cons of choosing a growing field
Before you decide on a career in health care, it's important to understand that high income also comes with a high chance of racking up a lot of student loan debt as well. For example, an estimated 74% of new medical student graduates had education debt in 2016. Consider the cost of the loan over time before signing on for the debt. "It is important to weigh the potential benefit of having the extra education against how much more you stand to earn with the degree to determine the return on investment (ROI)," Smith said.
What's more, just because income is growing in a certain field, that does not mean it is the highest paying. For example, orthopedists currently make an average of $489,000 a year, while plastic surgeons earn about $440,000, according to Medscape, but neither made SmartAsset's fastest growing occupation list. Family medicine practitioners were the second lowest paid physicians, according to Medscape, but still made SmartAsset's top 10 list.
The financial burden of educational debt can have psychological consequences as well. "High debt has also been correlated with callousness, stress, suicidal thoughts, failing medical licensing exams and leaving or being dismissed from medical school," according to a 2016 study in the Journal of the American Board of Family Medicine.
So if studying organic chemistry and suffering through anatomy classes isn't your jam, there is still hope for creative types like you. Not only will you likely wind up with less debt, you can also find a career with growing demand. Film and video editors came in 12th place for highest income growth, for example. And marketing managers received the 26th-largest raise since 2012, making $144,140 on average in 2016, Smith noted. 
Jobs experiencing the most income growth
Want a career where the salaries keep going up? Here are your top 10 options, as ranked by SmartAsset. Careers with the largest dollar increase rank highest.
10. Genetic counselors
Salary in 2012: $55,820
Salary in 2016: $74,960
Percent increase: 34%
Salary for genetic counselors grew more than $19,000, as this emerging field is in hot demand. Genetic counselors examine disease risk for individuals, families and populations based on how genetic variations, the environment or lifestyle factors influence why individuals develop disease. While a master's degree is acceptable, a Ph.D. is also favorable.
9. Family and general practitioners
Salary in 2012: $180,850
Salary in 2016: $200,810
Percent increase: 11%
The family doctor continues to be in high demand, with the salary for general practitioners rising nearly $20,000 from 2012 to 2016. "You can't do anything without a primary care physician, so they'll probably always top the list," Travis Singleton, senior vice president of physician recruiting firm Merritt Hawkins, told Forbes. "One of the biggest drivers on the health care market is the baby boomer generation, the great tsunami is hitting our population."
8. Compensation and benefits manager
Salary in 2012: $105,920
Salary in 2016: $126,900
Percent increase: 20%
Certain human resource positions are projected to grow faster than others, and the area of compensation and benefits is on fire, Monster reported. Professionals in this position help companies determine salaries and employee benefits, which could include bonuses, pensions, life insurance and possibly insurance. Within four years, salary rose for compensation and benefits managers by a little over $20,000.
7. Surgeons
Salary in 2012: $230,540
Salary in 2016: $252,910
Percent increase: 10%
The Association of American Medical Colleges predicted a shortage of up to 29,000 surgeons by 2030, due to population growth and the aging population in the U.S. The field of surgery is well poised to take advantage of this, with professionals seeing a salary increase of over $22,000 from 2012 to 2016.
6. Psychiatrists
Salary in 2012: $177,520
Salary in 2016: $200,220
Percent increase: 13%
Another medical profession in need, but also experiencing a shortage is psychiatry, Scientific American reported. The number of practicing psychiatrists dropped by 0.2% from 2003 to 2013, according to a study in Health Affairs. So it's no surprise that psychiatrists' income rose by $23,000 from 2012 to 2016.
5. Airline pilots, copilots and flight engineers
Salary in 2012: $128,760
Salary in 2016: $152,770
Percent increase: 19%
The Federal Aviation Administration predicted the total number of people traveling via U.S. airlines will grow to 1.15 billion from 2014 to 2034. Demand for more pilots has created an income surge of $24,000 from 2012 to 2016. Despite rising wages, the BLS predicted slow job growth of just 4% in this field by 2026.
4. Postsecondary health specialties teachers
Salary in 2012: $100,370
Salary in 2016: $125,430
Percent increase: 25%
Medical and dental university educators are a hot commodity as those who work in the professions as health educators saw their incomes rise by about $25,000 a year from 2012 to 2016. This job is also growing the fastest in terms of the number of people entering it. From 2012 to 2016, the number of postsecondary health specialties teachers rose by 34,600.
3. Personal financial advisers
Salary in 2012: $90,820
Salary in 2016: $123,100
Percent increase: 36%
If numbers make you giddy, consider becoming a personal financial adviser. Advisers' income grew by $32,000 from 2012 to 2016, and the BLS predicts the occupation will experience a 14% growth in terms of the number of people working in it by 2026. And since it doesn't require an advanced degree, it's also one of the easiest careers to get into on this list.
2. Anesthesiologists
Salary in 2012: $232,830
Salary in 2016: $269,600
Percent increase: 16%
The highly-compensated field of anesthesiology is projected to grow by 21% in the next 10 years in terms of number of practitioners, CNN Money reported in 2017. Plus, anesthesiologists' salaries rose nearly $37,000 from 2012 to 2016.
1. Orthodontists
Salary in 2012: $186,320
Salary in 2016: $228,780
Percent increase: 23%
Leading the pack with the fastest growing salary are orthodontists, with salaries increasing a whopping $42,000 from 2012 to 2016. Although salaries are on the rise, dental students who specialize in orthodontics need extra training under their belt, in addition to a dental degree and licensing, according to Doctorly.
Although grad school is a must for many of these jobs, here are 17 high paying jobs you can score right now with some technical and on-the-job experience. Or go big and check out these emerging industries for your future job.
Sign up for the Payoff — your weekly crash course on how to live your best financial life.