On Bjork's new album, 'Utopia' means facing down the patriarchy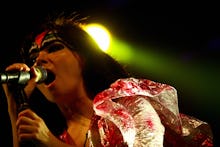 The difference between Vulnicura and Utopia, the two albums Björk has made since her 13-year relationship with visual artist Matthew Barney dissolved, is right there in the titles. The former is a Latin construction, typical for a musician prone to naming her works with such one-word adventures as Vespertine, Medúlla and Homogenic. "Vulnicura" means "cure for wounds," and you likely had to look it up.
Utopia, released on Friday, is her first title since 1995's Post where that may not be the case. Most of her fans likely know the concept of a utopia, an imagined paradise with nothing out of place, usually applied to society; here, Björk applies it to love. Vulnicura and Utopia engage with the fallout of her long-term romantic (and sometimes creative) collaboration with Barney in very different ways. But the most crucial distinction is the language she uses.
Vulnicura is more impressionistic, vexing us with riddles like, "A juxtapositioning fate/ Find our mutual coordinates," that make the subject matter feel as untethered as the loom of orchestral strings and sparse electronic noises that the lines are woven through. That quote comes from the opener, "Stonemilker," a typical song title for that album (others include the evocative "Lionsong" and "Mouth Mantra").
Typical song titles for Utopia: "Sue Me," "Claimstaker," "Losss." While Björk's ninth studio effort post-Sugarcubes is being touted as the happier counterpoint to Vulnicura's despair (even by the artist herself, who cheekily dubbed this her "Tinder album"), happiness isn't quite what emanates from the listening experience.
The quote I kept recalling while listening to Utopia wasn't the Tinder line; it was actually something Sarah Silverman said in a recent Guardian profile, after the author, Sophie Heawood, called the initial few weeks following the Harvey Weinstein scandal — when waves of sexual misconduct allegations started surfacing — "horrible" for women. "No," Silverman quickly replied with a smile. "It's probably been the best two weeks for women in Hollywood ever."
If that's what passes for "best" in 2017, then yes, this is the happiest album Björk has made since 2001's overtly sexual-euphoric Vespertine, her first record to be publicly known as inspired by her relationship with Barney.
What Utopia feels like is air — the wind pushing through the flutes that largely adorn the arrangements, as well as the substance that carries the various birds whose voices are equally ornamental to the album. And yes, air as in the stuff Björk inflates her lungs with and exhales. The songs on Utopia breathe in every sense of the word. There's nothing to hold back, no words she has to encrypt, no reason to pare down the 72 minutes of music she felt like releasing.
Utopia is the most explicitly feminist Björk record by some distance.
And musically, you can hear her latest stylistic shift immediately. Even though the instrumentation mines the same orchestral slush as her past few records, the song structures are less tangled; seven-minute centerpiece "Losss" even hinges on four plain ol' chords, like very little of Björk's music since 1995's airborne "Hyperballad." There are big, broad eruptions of major-key exclamations from the moment the opening track, "Arisen My Senses," gets going.
Odds are, happiness wasn't difficult to attain in the studio this time around, seeing as Björk describes her working relationship with decades-younger collaborator Arca as the strongest musical partnership she's ever had.
But she's always been musically uninhibited, doing more or less anything she wants since her Debut paid equal homage to jazzy showtunes and burgeoning acid house in 1993. Lyrically, though, she's never been as candid as she is on Utopia. Lines like, "We are all swollen from hiding his affairs/ Let's put it all on the table/ Let it all out/ It is time/ He mustn't steal our light," from "Tabula Rasa" are too gender-specific to write off as impressionism; they're in tune with the #MeToo movement, which Björk herself contributed to.
From the same song there's also this: "Tabula rasa for my children/ Not repeating the fuck-ups of the fathers." That can't help but feel like a loaded statement in a year defined by Donald Trump and Harvey Weinstein — even if she's only referring to Barney, who's a more explicit target on "Sue Me." In 2015, Barney sued Björk for custody of their daughter. "Sue me all you want," she sings, adding later with a sigh, "Let's break this curse/ So it won't fall on our daughter/ And her daughter."
This is clearly not just a "Tinder album" or a celebration of being single. It's not a calm after the storm, either — it's a calm that acknowledges an ongoing storm, a rare moment of clarity in which Björk, the alien art goddess to many, wants us to really know about her problems. She's detailing power structures that are continuing to obstruct "utopia."
Like Sarah Silverman's reaction to the sexual misconduct scandals, Björk sounds euphoric and relieved to finally be rewarded for doing what's right: speaking up and being direct about injustice. In the past, she's released more generalized assertions of strength ("Army of Me," "Declare Independence") and sociological musings ("Human Behavior"). But no one who's ever written her off as too artsy and distant could say these lyrics are just word salad; not when she's explicitly decrying the "fuck-ups of the fathers." It feels like she wants everyone to understand her more than ever, like something's at stake if people don't.
That makes Utopia the most explicitly feminist Björk record by some distance. And it shouldn't be surprising that she's gone in this direction after giving increasingly candid interviews over the past couple of years about her due artistic credit being given to her male co-producers and revealing her experiences of allegedly being sexually harassed by "a Danish director" who's widely believed to be Lars Von Trier, who helmed her breakout acting vehicle, 2000's Dancer in the Dark.
Of course, the complex perspective she arrives at is one that mimics the human experience. For all the talk of "fuck-ups," the warm blankets of sound on this record also encompass six and a half minutes of "I care for you, care for you, care for you" refrains on the first single, "The Gate." The personal and political are intertwined because she's juxtaposing her expressions of love with her grievances.
Two decades ago, on 1997's Homogenic, the orchestral-electronic masterpiece that would go on to define her sound more than most of her other left turns, she sang, "I thought I could organize freedom/ How Scandinavian of me." It was as if she was too bashful to make her societal beliefs explicit, even if she had a sense of humor about it. On Utopia, she doesn't apologize for anything. That's the first step toward creating a utopia, right?