Twitter Stock Price: Why TWTR is up after the site booted some alt-right users — but spared others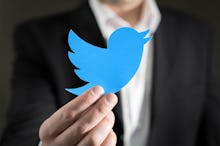 The day of reckoning finally came for several key alt-right Twitter users who were booted from the site on Monday for violating its new policy on hate speech and hate group affiliation. Yet, some well-known trolls and hate propagators were allowed to keep their Twitter accounts.
Why should you care? There's a lot to unpack, but for one, the news is relevant if you own Twitter stock (TWTR), whether directly or through, say, an index fund in your retirement account. You might be surprised: The largest proportion of Twitter shares are held by several big, popular funds, including the Vanguard Total Stock Market Index and Vanguard Mid Cap Index, according to Morningstar data.
Indeed, the most immediate effects of Monday's purge were positive for Twitter investors. The market reacted favorably, with Twitter's stock rising by more than 11% for the day by the closing bell. TWTR's price has stayed up over the week and, as of 10:00 a.m. Eastern on Thursday, sits just above $25 per share — versus less than $18 at the end of September.
Yet industry experts point out that Twitter's new policy is forcing the company into a delicate balancing act to maintain sustained growth in 2018.
"Twitter's revenue model depends on the number of followers and views of tweets, but it also depends on the amount of ad revenue it generates for each view," Cal Berkeley accounting lecturer John Briginshaw, author of Internet Valuation: The Way Ahead told Mic during a recent interview.
On one hand, "if you have companies like Procter & Gamble and Disney, they may not want their ads viewed alongside hate speech," Briginshaw said. But "if [Twitter] does ban the alt-right people, any consumers of alt-right media would not be able to go to Twitter. That would hurt their page views."
Wait, Twitter banned alt-right users? What happened, exactly?
To back up a bit: Twitter has suspended the accounts of Jayda Fransen — leader of the white nationalist UK hate group Britain First — along with U.S. white supremacist leader Jared Taylor of American Renaissance, as Think Progress reported. The pro-Confederate, League of the South president Michael Hill was also kicked off the platform, as was the account of the Nazi-sympathizing Traditionalist Workers Party.
Known hate-mongers like Laura Loomer, Tommy Robinson, and alt-right leader Richard Spencer, however, still remain.
Spencer was one of the participants in the Aug. 12 Unite the Right rally in Charlottesville, Virginia. He is also one of several alt-right figures whose accounts were un-verified in November. Spencer lamented on Monday that "more than a hundred" of his Twitter followers were booted.
Twitter confirmed via email that all of the removed accounts fall into one or more of the three following categories: "identify through their stated purpose, publications, or actions, as an extremist group; have engaged in, or currently engage in, violence (and/or the promotion of violence) as a means to further their cause; target civilians in their acts (and/or promotion) of violence."
But the company declined to comment on why users like Spencer weren't included in its hate speech purge. "Nothing to share regarding specific accounts," a Twitter spokesperson said via email Monday.
Twitter faces big challenges
Twitter is not the only tech company reckoning with how to preserve its functionality while preventing users from sharing harmful material. YouTube, for example, fought hard to protect advertisers this year by removing ads from any videos perceived to have offensive content — much to the chagrin of top YouTube personalities who rely on ads for their own businesses.
Yet hate speech is another matter, with arguably higher stakes: "Silicon Valley doesn't want to be associated with hate speech," Isra Ali, clinical assistant professor of media culture and communication at NYU Steinhardt said during a Mic interview. "The U.S. has become so politicized, not being political at all is not an avenue that's open to these firms as the size of their operations increase. They've kind of been forced into making a judgment here."
Twitter's crackdown on the alt-right was preceded by similar changes at crowdfunding and web commerce sites like PayPal, GoFundMe, and Patreon — as Silicon Valley more broadly seems to be making a statement about how it views white nationalism as a revenue stream. While it's undeniable that key alt-right figures like Milo Yiannopoulis have built strong followings, allowing those individuals to operate on major social media platforms likely comes at a price in the long term — even as a complex and fast-moving political environment creates more demand for services like Twitter's.
In recent years, Twitter has struggled to make money off its users — though the 2016 election and its aftermath has provided a boost: "The things they've done with news and trending have helped," said Ray Wang, founder and principal analyst at tech firm Constellation Research. "[Twitter has] been a primary source... for news and politics."
According to Wang, Twitter's stance on hate speech has largely been driven by its progressive Bay area workforce, which is a plus for talent recruitment.
Yet the company's broader challenges finding growth remain: "I think Twitter has a good future if they can verticalize," Wang said. "It gives them focus in terms of what ad dollars they want to go after. When you put content, context and channel together, that's how you create advertising dollars."
In any case, no matter how Twitter proceeds going forward, it's likely that alternative digital spaces will just keep popping up (or growing in popularity) as new homes for those in the alt-right community.
Since November, for example, several such figures have been directing fans to follow them on social site Gab — which has much more lenient rules around hate speech.
Sign up for the Payoff — your weekly crash course on how to live your best financial life.
Dec. 21. 2017, 10:00 a.m. Eastern: This story has been updated.