Report: 'Washington Post' catches woman falsifying claims against Roy Moore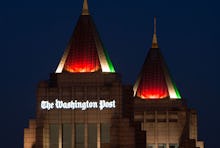 The Washington Post has proved once again why verifying your sources matters.
On Monday, the national paper shared the story of Jaime T. Phillips, a woman who approached reporters claiming to have been impregnated by Roy Moore when she was a teenager.
However, after running background verification on the woman, the reporters were quickly able to find significant holes in her story.
On Monday morning, a Post reporter additionally witnessed the woman entering the offices of Project Veritas, an organization that the Post described as targeting "the mainstream news media and left-leaning groups." According to the Post, the woman's car remained in the parking lot for more than an hour.
This sighting then compelled the editors at the paper to make the very unusual decision to publish the woman's off-the-record comments.
"We always honor 'off-the-record' agreements when they're entered into in good faith," Martin Baron, the Post's executive editor, said in a statement. "But this so-called off-the-record conversation was the essence of a scheme to deceive and embarrass us. The intent by Project Veritas clearly was to publicize the conversation if we fell for the trap. Because of our customary journalistic rigor, we weren't fooled, and we can't honor an 'off-the-record' agreement that was solicited in maliciously bad faith."
During initial interviews, the woman repeatedly asked reporter Beth Reinhard to "guarantee her that Moore would lose the election if she came forward." Reinhard reportedly said she couldn't predict the outcome of the story and explained to the woman that her claims would need to be independently verified.
Post reporters confronted James O'Keefe, the founder of Project Veritas, who would neither confirm nor deny the woman was working for them.
"I am not doing an interview right now," O'Keefe said. "So I'm not going to say a word."
This isn't Project Veritas' first attempt at entrapping the media. In June, the organization released several videos of a CNN medical producer slamming the network's coverage of President Donald Trump. In a video, CNN Health supervising producer John Bonifield is heard saying his own news organization's coverage is is mostly ratings-driven, adding "I love the news business, but I'm very cynical about it and at the time so are most of my colleagues."
In a response to the videos CNN simply stated, "Diversity of personal opinion is what makes CNN strong, we welcome it and embrace it."
As for the Post, it appears this is the last they've heard from Jaime T. Phillips as all of their subsequent calls to her cellphone have gone unanswered.