Mic Wakeup: Franken apologizes, Trump mocks Warren and how to have something in common with aliens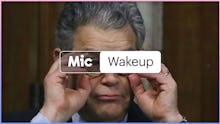 It's Tuesday, Nov. 28. Here are three stories you need to read.
Al Franken finally returns to Capitol Hill
On Monday Minnesota Sen. Al Franken returned to Capitol Hill after being accused of, and admitting to, sexual misconduct. In a statement, he told reporters he felt "embarrassed" over his actions.
"I know that I've let a lot of people down, the people of Minnesota, my colleagues, my staff, my supporters and everyone who has counted on me to be a champion for women," Franken said at a news conference outside his office. "I just wanted to again say I'm sorry."
When asked by reporters about an incident involving radio host Leann Tweeden, who claims Franken grabbed her during a photo op, Franken said, "I said that I recalled that differently from Leann. But I feel that you have to respect women's experience. And so I apologized to her, and I meant it, and I was very grateful that she accepted it."
Franken added that he will "learn from my mistakes," but made no hint that he plans to resign.
Trump once again calls Sen. Elizabeth Warren "Pocahontas"
At an event honoring Native American veterans President Donald Trump took time out of his planned remarks to make a racist joke toward Massachusetts Senator Elizabeth Warren.
"You were here long before any of us were here," Trump said while speaking directly to the group of Navajo Code Talkers. "Although we have a representative in Congress who they say was here a long time ago — they call her Pocahontas."
Though Trump never mentioned Warren by name it is clear he was talking about the senator as he has referenced her in this way several times before after she claimed she is 1/32 Cherokee.
For her part, Warren replied to the comment by telling MSNBC, "It is deeply unfortunate that the president of the United States cannot even make it through a ceremony honoring these heroes without having to throw out a racial slur."
Here's how you can own a piece of massive history
With the current news cycle it's kind of easy to wish for an alien invasion. While we aren't sure what any extra terrestrial visitors may think of the current political climate we are almost positive they'd at least love our music, because as it turns out they've probably already heard it.
You see, way back in In 1977, NASA launched a pair of gold-plated copper records into outer space that both contain a plethora of sounds, images and songs from that were meant to "portray the diversity of life and culture on Earth."
The songs were hand-selected by Carl Sagan and his team and include Bach's Brandenburg Concerto No. 2, Chuck Berry's "Johnny B. Goode" and Beethoven's Fifth Symphony. And now, thanks to a new Kickstarter campaign, you can own a copy of the recording for yourself.
For just $50, Ozma Records is selling a two-disc collection with every single audio track, including the music and the sounds of earth, that have been "remastered from the original analog tapes."
Hey, at least you'll be prepared with a few conversation starters when the little green men finally get here.