Could 2018 be the year Kendrick Lamar finally wins a Grammy for album of the year?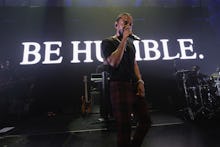 The Beatles were eight albums into their career, Bob Dylan was 30, Michael Jackson was six. The likes of Bruce Springsteen, Patti Smith, Prince, Madonna, Leonard Cohen, the Rolling Stones, Jay-Z, Beyoncé and Kanye West have never pulled it off. Suffice to say, winning a Grammy for album of the year can be difficult, even for generation-defining artists.
Which brings us to Kendrick Lamar. The Compton, California, rapper is a critic's darling, commercially successful and he's also already nabbed seven Grammys. But he's yet to triumph in the album of the year category. Two studio albums — 2012's good kid, m.A.A.d city and 2015's To Pimp a Butterfly — were previously nominated, but fell short, losing to Daft Punk's Random Access Memories and Taylor Swift's 1989, respectively.
Lamar now finds himself in the race for album of the year once again, with his most recent record, Damn. This is his fourth full-length, and it's no less remarkable than its predecessors; Damn. is a tour de force in which he probes the sad state of America in 2017, while also critically reflecting on the state of his own soul — and this is all with some of his most accessible songs to date. The album went to No. 1 on the Billboard 200 chart and has been widely celebrated, even deemed his best work yet — as well as by Lamar himself).
But what are its chances to win big at the 2018 Grammys?
Well, Lamar's success at the Grammys has been mixed. He's won his share of trophies in the rap categories, including for best rap album in 2016 (To Pimp a Butterfly) and best rap song 2015 ("Alright") and 2016 ("i"). He's had big moments during the show too, such as his floor-shaking collaborative performance with Imagine Dragons at the 2014 awards or his incendiary medley during the 2016 telecast.
But when you think of Lamar and the Grammys, you're just as likely to think of the times when he was stiffed — not just the awards he should've won, but also that awkward, white guilt-ridden text message from Macklemore, apologizing for beating Lamar for best rap album in 2014.
On Jan. 28, Lamar's album will face off against Childish Gambino's Awaken, My Love!, Jay-Z's 4:44, Lorde's Melodrama and Bruno Mars' 24K Magic. This year's group of contenders is a striking departure from previous years' nominees. Note the lack of whiteness, as well as the (related) lack of rock and pure pop albums, and the (also related) recognition of hip-hop.
It's no secret that the Grammys have a poor track record when it comes to honoring hip-hop. In the genre's 40-plus-year history, the trophy for album of the year has only ever gone to two hip-hop albums: Lauryn Hill's The Miseducation of Lauryn Hill in 1999 and Outkast's Speakerboxxx/The Love Below in 2014.
But perhaps it bodes well for Lamar that the Recording Academy has just nominated two hip-hop albums (Damn. and 4:44) for the top award, as well as a funk album made by an artist who came up through hip-hop (Awaken, My Love!). It's possible the academy is finally close to catching up with the general listening public.
But then again, if that's the case, Jay-Z's 4:44, which earned the most Grammy nominations (eight), might be poised to best Lamar's Damn. The academy could decide that Jay-Z is due. And could you blame them? Though 4:44 isn't his best work, it's still a legitimately strong album, wherein the 47-yea could benefit from being both expertly crafted and a fairly traditional pop album — at least compared to its competition — and thus more in line with the academy's traditional taste.
Alternatively, though, Lamar and Jay-Z could split the hip-hop vote, leaving a lane open for Bruno Mars or, more likely, Lorde to occupy. The 21-year-old New Zealand phenom's sophomore effort is lush, precise and bold, mixing big moments of Antonoff-ian pop euphoria with intimate ballads. Melodrama could benefit from being both expertly crafted and a fairly traditional pop album — at least compared to its competition — and thus more in line with the Academy's traditional taste.
Of the five works nominated for album of the year, Damn. is the most ambitious, both sonically and lyrically. It's certainly the most culturally vital of the group, an album that smartly and evocatively speaks to the tumultuous moment it was released into. I'd also venture to say it's the only one of the five that will be widely remembered as a stone-cold classic in the years to come.
History suggests that if the Recording Academy can find a way to avoid rewarding a hip-hop artist with the Grammy for album of the year, it will. On the other hand, as mentioned above, it's possible that this year's nominations signal a turning point for the awards.
Ultimately, though, the outcome of the race will say more about the academy than it will about Lamar or his album. The Grammys have a poor record of honoring iconic albums — so whether it wins or not, Damn. will be in good company.