Mic Wakeup: Trump's in trouble, harassment is bipartisan and what the GOP doesn't want you to know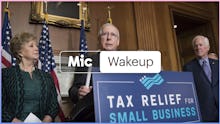 It's Wednesday, Nov. 29. Here are three stories you need to read.
Navajo Nation isn't pleased with Donald Trump
On Monday, while speaking to Native American veterans, President Donald Trump took the time to take a jab at Democratic Sen. Elizabeth Warren with what some consider to be a racist slur.
"You were here long before any of us were here," Trump said. "Although we have a representative in Congress who they say was here a long time ago — they call her Pocahontas."
Though he didn't actually mention Warren by name, it is clear he was referring to the senator as he's called her by this name on more than one occasion.
In response to the president's remarks Navajo Nation President Russell Begaye said in a statement, "In this day and age, all tribal nations still battle insensitive references to our people. The prejudice that Native American people face is an unfortunate historical legacy."
In a separate statement Navajo Nation council delegate Amber Kanazbah Crotty shared, "Today's careless comment from President Trump is the latest example of systemic, deep-seated ignorance of Native Americans and our intrinsic right to exist and practice our ways of life."
Trump has yet to apologize for his remarks.
Republicans think only Democrats have a sexual misconduct problem
A new HuffPost/YouGov poll released on Monday is shedding some interesting light on how Repiblicans and Democrats feel about the growing sexual misconduct problem.
As the poll found, the majority of Democrats and Dem-leaning independents believe that both parties have a sexual harassment problem. Conversely, the Republicans and Republican-leaning independents who replied to the poll said it's only a Democratic issue.
Part of this may be the way Democratic leadership has dealt with their own internal sexual misconduct issues. For example, House Minority Leader Nancy Pelosi defended Rep. John Conyers, who is facing several misconduct allegations, on Meet The Press Sunday. There, Pelosi extolled praise on his record on women's issues and even called him "an icon."
"Democrats have lost the thread on sexual harassment," pundit Nate Silver tweeted Sunday after the show. "You can debate [Sen. Al Franken] as being a marginal case, I guess. But the Conyers claims represent a serious abuse of power — one that required a legal settlement — and Pelosi doesn't see them as a firing offense."
The GOP is working on a tax bill that they don't want you to know about
The Republican party needs to pass its tax plan as soon as possible so the public never has a chance to read it, according to Louisiana Republican Sen. John Kennedy.
"Time is not our friend here," Kennedy told reporters while walking to a Senate committee meeting to vote on advancing the party's tax bill. "It will only get worse," Kennedy added.
Why does Kennedy have such a vested interest in shuffling through the tax plan as quickly as possible? As it turns out, the plan could cause 13 million more people to lose their insurance over the next 10 years thanks to its plan to kill a key portion of the Affordable Care Act. Moreover, it could cause premiums to increase at a staggering rate, according to a new score sent by the Congressional Budget Office. So in essence, the Republicans are hoping to pass it before you even notice just how bad this plan can really be.