New credit card? To avoid payment drama, make this one crucial move when you open an account.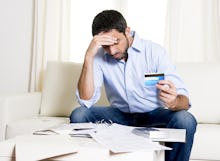 If you spy a weird expense on your credit card statement, you can typically call your issuer and quickly resolve it, especially if you find an unauthorized charge or bogus fees on your account. But what happens if your credit card company digs in their heels and you come to an impasse?
"In some cases you may have exhausted your options, run through the chain of command, yet the dispute is still not resolved," CreditCards.com senior analyst Matt Schulz said in a phone interview. If that happens, some people want to take their dispute to court in order to present their evidence and have the case reviewed by a judge and possibly a jury.
But unfortunately with some credit cards, you won't have your day in court. According to a new study by CreditCards.com, at least nine of 30 major credit card issuers have a forced arbitration clause without the ability to opt out.
Instead of getting a shot at a jury trial, with forced arbitration you must resolve the dispute with an arbitrator who reviews the arguments and evidence from both parties; that mediator is often chosen by the company and not the consumer. This has lead to abuses in the past, for example, when many credit card contracts stipulated that disputes be heard by the National Arbitration Forum — which ruled in favor of issuers 94% of the time.
In the CreditCards.com study, 12 cards do allow the consumer to opt out of forced arbitration — as long as they do it within a short timeframe. (The rest of the 30 cards reviewed have no arbitration clause at all.)
In other words, it's a good idea to be aware of this issue before you open a credit card — and take action right away if need be.
What is forced arbitration?
While the process may sound similar to having your case heard by a judge, forced arbitration is mandatory (meaning you no longer have the option to get a jury), the decision is binding and the results cannot be made public. The consumer also waives the right to sue, take part in a class action suit or even appeal: You have no further recourse against an unfair judgment. "Forced arbitration is ubiquitous in society today," Remington Gregg, counsel for civil justice and consumer rights for Public Citizen said. "It's in everything from your cell phone contract to the nursing home agreement you choose for your grandmother."
But what makes forced arbitration so tricky to navigate is that the consumer typically agrees to sign his or her rights away before there is even a problem. "That means you lock yourself into pre-dispute arbitration," Gregg said. More often than not, that works against these unwitting consumers.
For example, out of 48 consumer-initiated arbitration clauses between 2009 and 2016 against Wells Fargo (which does not let customers opt out of arbitration), consumers won in just seven, for total rewards of $349,549.
In short, your legal options are severely curtailed. That's why you should check if your issuer requires mandatory arbitration when you open the account. If it doesn't, you're fine — and even if there is a clause, you may be able to waive it. If not, it's probably time to move on to another credit card company.
"While we were surprised there were some companies who did not have arbitration clauses at all, the news still isn't great," Schulz said. "The window for opting out is pretty short, ranging from 30 to 90 days, which means the cardholder has to really be on top of it in order to opt out and get a new card."
Which credit card issuers let you opt out of mandatory arbitration
Companies with no arbitration clauses (which means you can get a jury trial if you sue) include:
• Bank of America
These card issuers have an arbitration clause you can opt out of after you open your account:
• American Express
And these banks have an ironclad arbitration clause you can't avoid:
• BarclayCard
How to opt out of forced arbitration clauses
Say you really want the Citi Double Cash card for it's 2% cash back on all purchases or the Amex Platinum for the $200 in free Uber rides. Do you have to give it all up just because of that pesky arbitration clause from both issuers?
Nope. In most cases, as soon as you activate your card, just send a snail mail letter to the issuer saying you reject the arbitration provision on your credit card agreement. Be sure to include your name, account number, address and the date you wrote the letter. Send it by certified mail to get a record of receipt and keep a signed, dated copy for your records as well.
"Send an actual letter, not an email. You can also call the 800 number on the back of your card to inquire about their procedure for opting out as well," Schulz said. You'll need to get the mailing address from your issuer (or check here for a partial list).
Important to note is that almost all issuers have an exemption for disputes that are small enough to be dealt with in small claims court. That means that even cards requiring arbitration will let you go to small claims court if the dollar amount is small — typically $10,000 or less.
These cards have no arbitration clauses and great perks
Of course you aren't just going to pick a card because it has no arbitration clause. You also want one with low interest rates and nice extras like a signup bonus and great rewards. Here are a few recommended by Schulz:
• Chase Freedom Unlimited: A strong cash back card with 1.5% unlimited cash back and a $150 bonus after you spend $500 during the first three months. Cardholders also receive a 0% APR introductory rate for the first 15 months.
• Capital One Quicksilver: Allows you to earn 1.5% cash back on all purchases, and new members receive a one time $150 cash back offer after spending $500 during the first three months. Introductory rate of 0% APR for the first nine months.
• Pentagon Federal Credit Union's Promise Visa: "This card recently topped our list as having some of the fewest fees," Schulz said. The card is promoted as having no fees and rates from 9.49% to 17.99% depending upon the cardholder's credit.
• Bank of America Cash Rewards: Another card that offers a $150 online cash back bonus after spending at least $500 within the first 90 days and no annual fee and 0% APR during the first 12 billing cycles.
• Navy Federal Credit Union: "All of Navy Federal's credit cards are good with low APRs and annual fees," Schulz said. Members can choose from the GoRewards card that allows you to earn bonus points on gas and restaurant purchases, or the Platinum card with no fees and a rate as low as 6.99% APR.
Sign up for the Payoff — your weekly crash course on how to live your best financial life.