Mic Wakeup: Matt Lauer, Garrison Keillor and Johnny Iuzzini all accused of sexual misconduct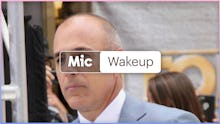 It's Thursday, Nov. 30. Here are three stories you need to read.
NBC fired Matt Lauer for "inappropriate sexual behavior"
On Wednesday morning NBC swiftly fired Today show host Matt Lauer for what it called "inappropriate sexual behavior in the workplace."
Andrew Lack, the chairman of both NBC News and MSNBC, told employees in a memo, "On Monday night, we received a detailed complaint from a colleague about inappropriate sexual behavior in the workplace by Matt Lauer. It represented, after serious review, a clear violation of our company's standards. As a result, we've decided to terminate his employment."
The memo, which was read aloud on air by Today anchor Savannah Guthrie, noted that it was the first complaint lodged against Lauer "in the over 20 years he's been at NBC News," but added that NBC News had been "presented with reason to believe this may not have been an isolated incident."
Later in the day Variety published a story, which reporters said they had worked on for months, alleging Lauer harassed other NBC employees and even had a button installed under his desk so he could lock his office door without ever getting out of his chair.
Minnesota Public Radio fired Garrison Keillor for inappropriate behavior
On Wednesday, Garrison Keillor, the former host of the nationally syndicated radio show A Prairie Home Companion, was fired from Minnesota Public Radio for what it called "inappropriate behavior."
In a statement MPR said it ended its contract with Keillor "and his private media companies" immediately after "learning of allegations of his inappropriate behavior with an individual who worked with him."
In a statement sent to the Star Tribune, Keillor said he was fired for putting his "hand on a woman's bare back." He added, "I meant to pat her back after she told me about her unhappiness and her shirt was open and my hand went up it about six inches. She recoiled. I apologized. I sent her an email of apology later and she replied that she had forgiven me and not to think about it. We were friends. We continued to be friendly right up until her lawyer called."
Keillor additionally called his firing "poetic irony of a high order."
Four former employees accuse celebrity chef Johnny Iuzzini of sexual misconduct
Two pastry chefs and two externs accused celebrity chef Johnny Iuzzini of sexual misconduct in interviews with Mic. According to the accusers, who reported to Iuzzini between 2009 and 2011, the environment around Iuzzini, and inside the Jean-Georges pastry kitchen where he worked, was rife with sexual harassment.
Each of the four women who spoke to Mic accused Iuzzini of being verbally abusive and noted that his mood could turn on a dime. Three of the women even speculated that Iuzzini may have had a drug problem.
In a statement to Mic, Iuzzini said he was "shattered and heartbroken at the thought that any of my actions left members of my team feeling hurt or degraded." Iuzzini was allowed to review the allegations, several of which he denied. "Many of the other allegations are inaccurate, others I do not recall and none were meant to hurt people," he said.