Thanks to global warming, we might have to kiss 13,000 American archaeological sites goodbye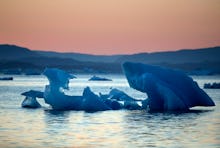 Human history may soon be in serious trouble: More than 13,000 U.S. archaeological sites across nine states are in danger of being lost to sea-level rise if trends continue, according to a new study.
Sea-level rise is when the volume of water in our world's oceans increases, particularly as ice sheets and glaciers melt under global warming. NASA calls it a planetary "vital sign," which is concerning given that satellite data shows a continuous uptick in sea-levels for more than two decades.
Scientists behind the study believe that one meter in risen levels could put archaeological sites in the Southeastern region of the U.S. underwater, which would effectively destroy much of the information that can be extracted from them. It could also affect other parts of the U.S. that were not within their sample.
One meter of rising water may sound like a lot, but at the rate our planet is going, it's very possible.
"A growing body of evidence indicating sea levels will rise appreciably over the next several centuries, from one [meter] in the next century to five [meters] or more in the centuries thereafter," the study writes.
The archaeological sites at risk are mostly on the coast of states such as Louisiana, Alabama, Florida, Georgia, South Carolina, North Carolina, Maryland and Virginia (at least as far as their sample goes). A total of 5,762 archeological sites were identified as currently at sea level or below sea level, meaning they are particularly vulnerable for being submerged.
Even more bad news: About 1,000 of the roughly 13,000 archaeological sites identified are eligible for the National Register of Historic Places, meaning that they are of significant cultural value, the study's release stated.
All of this means we're at a potentially huge loss for precious relics of our human past. Add it to the growing list of woes and worries over climate change.