Road Trip Diaries: 6 offbeat stops between Charleston, South Carolina, and Asheville, North Carolina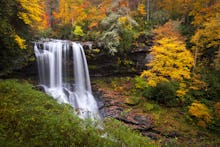 From the palm-lined beaches of the Atlantic Coast to the ruggedly beautiful Blue Ridge Mountains, this road trip shows off an enticing cross-section of the Carolinas. The two states have several commonalities — a shared last name, similar politics, comparable topography, and a deep passion for barbecue (albeit different styles) — that date back to the 1700s, when they were both a part of the unified "Province of Carolina." Starting from historic, genteel Charleston, South Carolina, with its moss-covered live oaks and Old South plantation estates, the drive heads inland across the Coastal Plain before passing through the boomtowns — Columbia and Greenville — of the Piedmont. From there, it crosses into North Carolina in dramatic fashion, where the Whitewater River crashes down two spectacular 400-foot waterfalls, one on either side of the border. Finally, the trip ends in progressive Asheville, a fast-growing mountain town with a reputation for first-rate outdoor recreation, an eclectic arts and culture scene and innovative restaurants.
1. Queen Street Grocery
133 Queen Street, Charleston, South Carolina 29401
Get a grab-and-go breakfast — cold-press coffee and a warm breakfast sandwich on a croissant at Queen Street Grocery is a good choice — before you begin exploring Charleston. Owned by B-list actor Rob Bouton, Queen Street is a local favorite (Bill Murray is a regular) that serves up picnic-ready fare like sweet and savory crêpes, fresh salads and smoothies. Plus, it's a short walk from some of Charleston's most famed narrow alleys and hidden passages, which blur the line between public and private areas and offer remarkable insight into the history of the Holy City.
2. Congaree National Park
100 National Park Rd., Hopkins, South Carolina 29601
With the largest remaining tract of old-growth bottomland hardwood forest in the United States, the almost 27,000-acre Congaree National Park features 15 "champion" trees that are the biggest of their species in the world. The best way to see the forest is a 20-mile paddle along Cedar Creek, a slow-moving blackwater tributary that flows through the bald cypress-studded floodplain to the Congaree River. You can sign up for a free ranger-guided canoe tour, so you don't need to have your own boat. Short on time? Check out the self-guided, 2.5-mile elevated boardwalk tour from the Harry Hampton Visitor Center. Entrance is free.
3. Whitewater Falls
Nantahala National Forest, North Carolina, 28717
Two massive waterfalls — the 411-foot Upper Whitewater Falls and the 400-foot Lower Falls — straddle the border of North and South Carolina, where the aptly named Whitewater River plunges through the Blue Ridge Mountains. Get a close-up of the more spectacular Upper Falls by checking out one of two overlooks — a paved 1/4-mile walkway at the top of the falls, or a 154-step staircase at the bottom. On hot days, you can follow a half-mile spur trail that drops 600 feet to the river's edge for a refreshing swim among massive boulders. A shaded picnic area near the trailhead offers the perfect spot for a post-hike refuel. $2 per vehicle
4. Doc Brown's BBQ
1320 Smokey Park Highway, Candler, North Carolina 28715
Historian and chef Dave "Doc" Brown is as passionate about sharing food traditions as he is about making mouthwatering barbecue. That's why the menu at his restaurant, a brick and mortar version of his wildly popular food truck of the same name, includes homemade sauces and slaws to accompany his wood-smoked pulled pork. Classic sides, like collard greens and mac and cheese pie, may lull you into thinking tradition rules here, but smoked chicken salad, BBQ tempeh (yes, you read that right) and "slaw flights" are contemporary twists that prove otherwise.
5. River Arts District
Clingman Avenue at Lyman Street, Asheville, North Carolina, 28801
More than 200 artists work in paint, pencil, pottery, metal, fiber, glass, basketry, paper and other media in the sprawling River Arts District. The district comprises 22 former industrial and historical buildings spread along a one-mile stretch of the French Broad River just a half-hour walk from downtown. "Open hours" vary, since these are working studios, but you can stroll between dozens of open studios and galleries — watching artists work and purchasing keepsakes — at almost any time.
6. Bunn House Hotel
15 Clayton St., Asheville, North Carolina 28801
Originally built in 1905, this beautifully restored house strikes a balance between an intimate bed-and-breakfast experience and a trendy boutique hotel. Each of six rooms on the property are stocked with complimentary coffee, local granola and other snacks (as well as beer and wine for happy hour), so guests can refuel at any time. Other welcome touches include luxurious steam showers, heated bathroom floors and cozy blankets to bring up to the rooftop terrace for nighttime views of downtown, which is an easy walk away. Rooms from $296.