Road Trip Diaries: 5 adventurous stops between St. Louis, Missouri and Memphis, Tennessee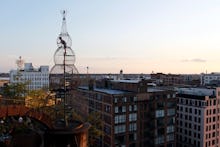 From the masterpieces of Mark Twain to the Delta Blues, the big muddy Mississippi River carves a mythic figure across the American landscape. This classic trip follows a storied stretch of the Great River Road south from St. Louis to Memphis, exploring farm country, barbecue shacks and cities where paddle wheel steamboats still call at port.
1. City Museum
750 N. 16th St., St. Louis, Missouri 63103
More of an interactive funhouse than a stuffy museum, the exhibits that fill the sprawling 600,000-square-foot City Museum are yours to explore, climb over, hang from and slide down to your heart's content. A two-story slide, a giant ball pit and underground caves are just a few of the fantastical features that sculptor Bob Cassilly dreamed up for the former International Shoe Company space. Cassilly built the space up from found objects — old chimneys, two airplanes, construction cranes and salvaged bridges have served as building materials — alongside a crew of 20 artisans. It bills itself as an "eclectic mixture of children's playground, funhouse, surrealistic pavilion and architectural marvel," and, with hardly any rules, will bring out your inner child. Admission is about $12 per adult.
2. Half & Half
220 W. Lockwood Ave., Webster Groves, Missouri 63119
Half & Half treats breakfast — the most important meal of the day, after all — in the same manner that a contemporary bistro does dinner, balancing high-end sophistication with traditional morning-meal comfort. Expect refined versions of the classics: pancakes layered with raspberries, mascarpone and granola; a biscuit with house-made sausage, as well as juicy hanger steak and eggs, all served alongside locally roasted Blueprint Coffee. On weekends, check out the "breakfast sushi," which is cheese, eggs, avocado and tater tots wrapped in bacon. Heads up, though, they only make 15 to 30 servings that typically sell out in the first hour.
3. Ste Geneviève
66 S. Main St., Ste Geneviève, Missouri 63670
Step back in time in the small, historic village of Ste. Geneviève, Missouri's oldest permanent European settlement that was established on the west bank of the Mississippi by French colonists nearly 300 years ago. Today, it still contains several original vertical log structures that are maintained as museums and open to the public (as well as more than 150 pre-1825 structures), and its narrow streets and fenced gardens surround some of the most important 18th century architecture in the country. Walk the streets, browse the numerous antique shops, duck inside the historic houses and soak up the rich history of the place.
4. Helen's Bar-B-Q
1016 N. Washington Ave., Brownsville, Tennessee 38012
In this part of the country, you can tell a good barbecue shack by the smoke billowing from its back end, and Helen's is no exception. At the no-frills roadside restaurant, owner Helen Turner — one of the nation's few female pit masters — wood-smokes pork shoulders, ribs, polish sausage and bologna over an open pit on a screened-in porch. Once the meat is tender and juicy inside with a crispy-chewy bark, she piles it high on buns or a platter, douses it in her made-from-scratch sauces (which come in two varieties — mild and hot) and serves it up alongside homemade baked beans, potato salad and coleslaw. It's authentic slow-cooking, and hands down some of the best barbecue you'll find anywhere.
Tip: Nearby, check out Mindfield, an enormous art structure on the edge of downtown.
5. B.B. King's Blues Club
143 Beale St., Memphis, Tennessee 38103
The original B.B. King's opened in Memphis way back in 1991, promising the best blues performances — as well as classic soul and rock and roll — on a nightly basis, served with cold beer and a host of Southern flavors, like catfish, fried chicken, gumbo and authentic Memphis-style barbecue. More than 25 years later, it's still a local favorite that stands apart from the tourist traps on Beale Street, and includes an incredible house band with a full horn section and a steady stream of up-and-comers making their mark on this stage.