Know how the Oscars can address Hollywood's sexual misconduct scandals? Start with a female host.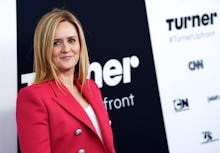 The 2018 Oscars don't take place until March 4, but chatter and speculation about the upcoming ceremony is already in full swing — and not just regarding the contenders for the major awards. Hollywood's recent flood of sexual misconduct allegations is looming large over the entire spectacle.
In early November, the Wrap reported that "several individuals [working in Hollywood] called the daily barrage of sordid stories a 'nightmare,' creating a climate that has placed a damper on the enthusiasm for the upcoming awards season." A little more than a week later, Page Six's Cindy Adams took the temperature of Hollywood and declared: "Replacing pre-Oscar fever, moviemakers are now comatose." One critic recently argued that the show should just be canceled outright.
"Surely the only gesture Hollywood could make this year to begin to rebuild trust in its compass would be to reverse its usual custom of telling us how racist, homophobic, xenophobic, hypocritical and materialistic we are and start admitting how bad they are," Kyle Smith wrote in the New York Post. "What better way to sincerely express remorse than to give up what it loves most — the Oscar ceremony itself?"
Granted, calls to cancel the Academy Awards aren't out of the norm. Earlier this year, amid the controversy surrounding the Trump administration's proposed travel ban, Todd VanDerWerff made the case in Vox for canceling the ceremony as a form of protest. (Writer-director Asghar Farhadi, who won best foreign language film at the 2017 ceremony for The Salesman, refused to attend the show.) In 2016, a handful of black actors and filmmakers boycotted the awards after the academy failed to nominate a single actor of color for the second straight year. The writers' strike that stretched from late 2007 to early 2008 also raised questions about whether to postpone the '08 Oscars.
In the Oscars' 89-year history, the show has always gone on. There have been years when the award ceremony was postponed (such as in 1968, when Martin Luther King Jr. was assassinated days before the awards were set to take place), but it's never been canceled. This year won't, in all likelihood, be the first cancellation. And I'm sure Smith knows that; his column is mainly an excuse for the New York Post to kick liberal, elitist Hollywood while it's down. Still, the question he's trying to answer is valid: How does Hollywood handle these scandals?
Here's an idea: How about making women the face of the Oscars?
Sexual misconduct is largely a gendered problem. Overwhelmingly, it's an issue of men acting in ways that are predatory in some cases, and simply careless or ignorant in others. Even for well-meaning men, what's going on should be edifying — in terms of what we are blind to, how we are complicit and how we might unthinkingly commit a transgression. The 2018 Oscars present an opportunity for men to cede a stage that they've largely monopolized and simply listen.
Perhaps the eight stars of the upcoming all-female Ocean's flick could steer the show.
The academy could start with the host. Jimmy Kimmel is slated to emcee in March; he himself hasn't done anything that should cost him the gig, and I found him to be a superb host during the most recent telecast. But, despite him being outspoken on politics throughout the year, he's not the right person to host for this moment — no man is, really. The 2018 Oscars need to replace him with someone who can play the role Chris Rock played when he hosted the 2016 awards, at a time when the academy was facing the #OscarsSoWhite controversy; the show needs to be led by someone who can speak to the uncomfortable moment in which Hollywood finds itself.
And that means having insight into the experience of being a woman in show business. The host need not be a victim of sexual misconduct or abuse, but someone who can articulate the smaller ways that industries like Hollywood are systematically stacked against women, and how we might go about fixing these issues.
The obvious choice is Samantha Bee. She is one of the funniest comics and late-night hosts working today. She's charismatic, has a razor-sharp point of view and is comedy's foremost voice when it comes to women's issues at the intersection of politics and culture. She has stepped up as a leader within the resistance, creating and hosting the Not the White House Correspondents' Dinner in April.
For a sample of how she could confront the sexual misconduct scandals in Hollywood, check out her pitch-perfect segment on Weinstein from October, in which she picked apart the disgraced producer's response to the allegations against him and also let other reputed abusers know they can't hide much longer. Really, Bee would be a terrific choice in any year; but the way she can pivot between sincere righteousness and acerbic satire, between politics and pop culture, and bring a female perspective, makes her especially ideal for the 2018 Oscars.
But why stop at Bee, even? Every so often, the Academy Awards feature several hosts during one telecast. Historically, that often means three or four men and one token woman (that was essentially the arrangement from 1972 to 1977). There have also been years like 1959, when the Oscars was hosted by six men (Bob Hope, David Niven, Tony Randall, Mort Sahl, Laurence Olivier, Jerry Lewis) and no women.
This year's awards could be an inverse of that year's ceremony. Perhaps the eight stars of the upcoming all-female Ocean's flick could steer the show, or, as a spin on The Avengers, all of the actresses who are playing superheroes in various franchises. Get a little creative, Hollywood.
Besides incorporating a variety of female perspectives, choosing a group of women to host the Oscars would be a gesture of solidarity. It would bring the social media conversation to life in a way that could be both powerful and, more cynically, lucrative — imagine the engagement.
Since the first Oscars ceremony in 1929, the awards have been hosted by men 109 times — some years featured more than one host, while some men hosted more than once. Women, meanwhile, have hosted only 22 times — barely more than Hope, who played host 18 times himself.
Choosing a group of women to host the Oscars would be a gesture of solidarity.
It's no secret there are far fewer opportunities for women in Hollywood than men, and that's reflected on the Oscars' stage. One way to address the entertainment industry's gender disparity while also advancing the discussion on sexual misconduct — two problems that are inextricably linked — would be to put more women in front of large audiences.
Even during the 2017 awards, which was a down year for viewership, the Oscars attracted 32.9 million viewers — not to mention, the eye of the industry. If the academy were to decide that, for 2018, the host and all of the presenters should be women, it could bring recognition and notoriety to the many female writers, directors, producers and actresses who don't get enough credit.
Hollywood has the power to imagine and project a better world. To do so, though, requires letting in, and listening to, new voices. An Academy Awards led exclusively by women wouldn't heal decades of abuse, misconduct and discrimination. But it would be reason to celebrate.