Road Trip Diaries: 6 spectacular places on the drive from Denver to Rocky Mountain National Park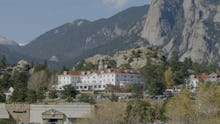 With its soaring mountains, scenic byways, swanky ski resorts, laid back mountain towns and independent, pioneering spirit, Colorado is the perfect place for a road trip. It's a short drive from Denver up into the Rockies, but to experience the true grandeur of the mountains, detour northwest to Rocky Mountain National Park. If you find yourself out of breath, that's likely because of the high altitude — though the scenery may play a part, too. The route takes you right through downtown Boulder, a utopian town of overachievers by nearly every measure — including fitness, health, intelligence, wealth, restaurants and shopping. Stop off in the one-of-a-kind city before climbing into the park, where hiking trails and wildlife abound.
1. Snooze: An A.M. Eatery
Union Station, 1701 Wynkoop St. #150, Denver, Colorado 80202
What began as a late-night breakfast joint has, over the past dozen years, transformed into a brunch phenomenon — there are now 20 locations in four states, with lines out the doors pretty much guaranteed. Driving the Snooze craze is a cheerfully retro vibe — rendered even more so by its location in the beautifully restored, century-old Union Station. Here, you'll find incredibly friendly service and an impressive menu full of tooth-achingly sweet pancakes, inventive Benedicts and sustainably sourced joe.
2. Alpine Modern
1048 Pearl St., Boulder, Colorado 80302
Outdoorsy meets clean, understated design lines in this impeccably curated home goods shop started by the husband-wife team of Lon and Lauren McGowan, where you can find gift-worthy coffee table books, kitchenware, candles and home accent pieces. The in-house cafe, quarterly magazine, and two shops all promote contemporary mountain living in the most contemporary of mountain towns.
3. Boulder Dushanbe Teahouse
1770 13th St., Boulder, Colorado 80302
A gift from Boulder's sister city in Dushanbe, Tajikistan, the Boulder Dushanbe Teahouse was handcrafted without the use of any power tools, disassembled, crated up and sent halfway around the world to its current location, just off the Pearl Street Mall and overlooking Boulder Creek. If you make reservations 24 hours in advance, you can stop in for traditional afternoon tea — there are dozens to choose from, shipped in from around the world — with English-style white linen tablecloth and a three-tiered tower of sweet and savory pastries, scones, artichoke purses, cucumber sandwiches, sweet cakes and a chef's daily special, all baked fresh that morning. Or sample some of the international entrees (inspired by Dushanbe's location along the Silk Road), many featuring ingredients grown on a nearby 10-acre farm.
4. Cross the Continental Divide
U.S. Highway 34, Trail Ridge Road, Rocky Mountain National Park, Colorado
If you're visiting in the summer or fall, experience John Denver's "Rocky Mountain High" when you drive along Trail Ridge Road. The seasonal road, which closes over the winter, climbs from woodlands through mountain meadows and well above tree line into the alpine tundra, where it crosses the 12,183-foot-high spine of the continent. Take your time to pull over frequently and scope out aquamarine alpine lakes, snap photos of regal-looking bull elks and take in end-of-the-world views of the mountains.
5. Moraine Park
U.S. Highway 36, Rocky Mountain National Park, Colorado
As dusk approaches, head out the two-mile (one-way) South Lateral Moraine Trail, which traces the southern edge of Moraine Park. The broad mountain valley is frequented by herds of grazing elk and bighorn sheep. It's worth the drive for the views of the valley and surrounding mountains, which make for a beautiful sunset backdrop.
6. The Stanley Hotel
333 Wonderview Ave., Estes Park, Colorado 80517
After an intimate five-course pop-up dining experience called "Table," featuring a rotating cast of guest chefs, winemakers and brewers, take an evening ghost tour of the grand old hotel that inspired Stephen King's famed horror novel The Shining. You may even spot the ghost of original owner F.O. Stanley or his wife, Flora, who are said to haunt the historic property. If you spend the night, be sure to request Room 217, where King was first spooked into writing his masterpiece. Rooms from $189