Oscar Micheaux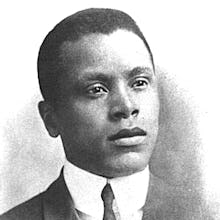 This article is a part of the Black Monuments Project, which imagines a world that celebrates Black heroes in 54 U.S. states and territories.
Notable black filmmakers like Ryan Coogler, Jordan Peele and Ava DuVernay owe everything to trailblazers like Oscar Micheaux.
Almost a century before Peele became the first black director to gross $100 million with a debut film, Micheaux directed, produced and starred in his own full-length motion pictures. Micheaux was the first black man to accomplish such a feat with pioneering silent films like 1919's The Homesteader and 1920's Within Our Gates, two of the more than 40 films he produced in his lifetime. Before his film career, the Metropolis, Illinois, native wrote at least seven books as well.
He died in 1951, but decades later, Micheaux's legacy continues to inspire hopeful filmmakers across the country. He's received notable posthumous awards and had others named in his honor. And Tyler Perry is set to play Micheaux in the untitled 2018 HBO biopic.
Micheaux "embodies the best of what we all are as Americans," filmmaker Bayer Mack, writer and director of the 2014 Micheaux biopic The Czar of Black Hollywood, said by phone. "He's an inspiration to anybody who has a dream."
Micheaux's first film came just four years after a pivotal point in the blossoming era of Hollywood motion pictures. Black leaders were desperate to counter the narrative presented in the 1915 film The Birth of a Nation. The climax of the notoriously racist Reconstruction-era silent film depicts a white woman throwing herself off a cliff to avoid being raped by a "renegade Negro" named Gus, who was played by a white actor wearing blackface makeup. The film ends with Gus being tried and lynched by the "heroic" white knights of the Ku Klux Klan.
The critically acclaimed blockbuster was celebrated throughout much of white America as a cinematic masterpiece for its groundbreaking filmmaking techniques. The film's popularity also resulted in a surge of Klan membership and a pandemic of lynchings in the South.
Black intellectuals rightly viewed Birth of a Nation as a damaging cultural roadblock to achieving greater equality for African-Americans.
Micheaux took up the cause of offering an alternative to Hollywood pictures with locally financed works featuring, alongside virtually all-black casts.
Mack said Micheaux's bold films unapologetically center on the unfiltered black experience in the South during the Jim Crow era, and drew ire from both black intellectuals and white censor boards in cities across the country.
Within Our Gates, for example, turned Birth of a Nation on its head by depicting the lynching of a black family by a white mob and the rape of a black woman by a white man.
"[The rape scene] could not be shown — they censored it," Jerry Wilske, the former director of the now-defunct Oscar Micheaux Film and Book Festival in Gregory, South Dakota, said by phone.
"The white censors and theater owners would leave and sometimes [Micheaux] would insert the eliminated portions back in the film again."
Persuading white theater owners and censor boards in each city to allow Micheaux's movies to be shown in segregated white movie theaters was a huge accomplishment in itself, according to Wilske.
"None of the other black filmmakers could get by doing that," Wilske said. "Many of the theater owners and managers early on were Jewish, and Micheaux was very charismatic and persuasive in the way of presenting the films. He certainly was not going to bring up anything in there that would sound risqué to a white audience."
Despite his success, Micheaux died broke, according to Mack and Wilske.
Before his rise to fame, Micheaux purchased and homesteaded land near Gregory, South Dakota, where he taught himself to farm and wrote several of his novels, financed by locals who respected and adored him.
It was his brief time in South Dakota that inspired Micheaux to write The Homesteader, the 1917 novel on which his landmark first film was based.
In 1996, Gregory residents founded the aforementioned Oscar Micheaux Film and Book Festival. The once-recurring event had its last run in 2013. It used to showcase Micheaux's old farm and former house, as well as memento items that admirers had collected over the years. It was a venue for local history buffs to discuss his work.
Wilske, a former Gregory resident and huge Micheaux fan, organized the festival from 2005 to 2012 after first attending in 2003.
"I was in a laundromat and happened to see a promotional flyer," Wilske said. "I thought, 'Well, who's this good-looking black man?' I decided to go to the festival and fell in love with it."
South Dakota was the place Micheaux honed his unmatched abilities as a writer and a dream chaser. It's the perfect place for a monument in his honor.
"[Micheaux] is not only the most famous black person from South Dakota — he's probably the most famous person from South Dakota," Mack said.