Road Trip Diaries: 6 hidden Midwestern gems on the road from Chicago to Madison, Wisconsin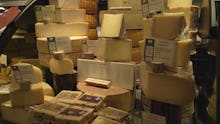 With its glimmering skyscrapers towering over Lake Michigan, Chicago has always been one of America's favorite cities. And just 50 miles to the north is bucolic Wisconsin, also known as "America's Dairyland," where a rolling patchwork of farms produce award-winning cheeses, more than half the nation's cranberries and world-famous tart red cherries. It's a beautiful, road trip-worthy Upper Midwest landscape, made even better by stops in two cities on the rise — a revitalized lakeside Milwaukee and the progressive, food-centric state capital of Madison.
1. Kitsch'n On Roscoe
2005 W. Roscoe St., Chicago, Illinois 60618
This little spot is loaded with throwback kitsch — tongue-in-cheek decor like beer can collections, lava lamps, Billy Dee Williams "Colt 45" lighted signs, vintage lunchboxes and H.R. Pufnstuf action figures — raided from owner/chef Jon Young's parents' basement. The comfort food menu at Kitsch'n, however, is distinctly modern. The French toast is coconut-crusted, the BLTs feature candied bacon and a fried egg and the signature chilaquiles is the perfect morning fuel. Young mastered the dish, a spicy mix of eggs, fried tortillas, smoky chipotle salsa and pepper jack cheese, while living in Mexico.
2. SC Johnson Headquarters
1525 Howe St., Racine, Wisconsin 53403
Here's a hidden architectural gem: Free tours of the SC Johnson Headquarters are available, which includes the Frank Lloyd Wright-designed SC Johnson Administration Building and Research Tower and the stunning Fortaleza Hall. The latter houses a gallery with rotating exhibits about Wright and his legacy. Plus, you can tack on a tour of the 14,000-square-foot Wingspread, the last and largest of Wright's Prairie-style houses, which he designed for Johnson's third-generation leader, H.F. Johnson, Jr.
3. Milwaukee Art Museum
700 North Art Museum Dr., Milwaukee, Wisconsin 53202
Located directly on the Lake Michigan shore, the Milwaukee Art Museum includes more than 25,000 works of art from antiquity to present day, making it one of the country's largest art collections. The world-famous Santiago Calatrava-designed Quadracci Pavilion — a vaulted reception hall topped by a louvered sun screen that unfolds and folds twice each day like the wings of a giant shore bird. And recent renovations, backed by $10 million in local funding, have nearly doubled the number of artworks on view at any given time, a further sign of the museum's importance here. $19 for adults, $17 for students and seniors
4. Fromagination
12 South Carroll St., Madison, Wisconsin 53703
Owner Ken Monteleone is all about Wisconsin cheese. His European-style shop, located in downtown Madison on Capitol Square, focuses on the state's cheese-making heritage. Inside, cheesemongers sell nearly 100 Wisconsin cheeses, each cut to order, alongside condiments, chocolate, cheese papers, charcuterie, knives, cutting boards, cookbooks, beer and wine. One local cheese, Emmi Roth Grand Cru Surchoix, even won the 2016 World Cheese Championships (the first American cheese to get the honors since 1988). A short visit will convince you of America's cheesemaking prowess. If you're really hungry, order a fresh-made triple-decker Great Wisconsin Sandwich loaded with Genoa and Tuscan salami, prosciutto, local mozzarella and provolone and baby greens on a three-cheese miche.
5. House on the Rock
5754 State Road 23, Spring Green, Wisconsin 53588
An hour beyond Madison, House on the Rock is the brainchild of Alex Jordan, a wildly imaginative man with such a passion for collecting that he turned his 14-room home — which he built with no formal training on top of a 60-foot-high chimney of rock — into a whimsical repository. The collections include suits of armor, dollhouses, ship models and 6,000-plus Santa Claus statues (and, notably, the world's largest carousel, with 269 carousel animals). Take a walk on the wild side in the vertigo-inducing Infinity Room, an engineering marvel that extends out more than 200 feet over the forested Wyoming Valley floor, which is 15 stories below. From $14.95 for adults
6. HotelRed
1502 Monroe St., Madison, Wisconsin 53711
As the capital city's first boutique hotel, the five-year-old HotelRed sought to stay true to its surrounds, offering up the "most Madison-esque experience possible," according to its website. That means fun, ultramodern style that's complemented by friendly, top-notch service and a suite of free add-ons — bike, kayak and standup paddleboard rentals; breakfast (if you reserve directly on the site); and even a boxing class. Local pride runs deep here, as evidenced by the University of Wisconsin Badgers-red color scheme (their home, Camp Randall Stadium, is just across the street) and the Wisconsin-inspired menu at The Wise. The in-house restaurant features inventive takes on ingredients from nearly 30 local farmers and purveyors, including a butcher's board of local cheeses and medjool dates wrapped in bacon from a Wisconsin farm. Rooms from $150