Border arrests are down but ICE deportations have surged since Trump took office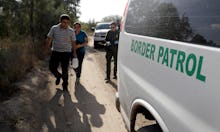 The federal government just released its most comprehensive report on U.S. immigration in 2017, and its conclusions are exactly what you might expect nearly a year into Donald Trump's presidency.
Arrests by Customs and Border Patrol have hit a 45-year low, while arrests for deportation made by Immigration and Customs Enforcement farther from the border have surged to recent highs.
The drop in CBP arrests at the border at a time when ICE is ramping up enforcement across the country suggests that Trump's anti-immigrant policies could be having a chilling effect on people attempting to enter the country without documentation, resulting in fewer border crossings and border arrests.
Though ICE's "interior arrests," or those not made at the U.S. border, increased by 25 percent from the previous year, overall ICE arrests saw a slight decline, as the agency took fewer people into custody who were arrested by CBP near the border.
"These results are proof of what the men and women of ICE can accomplish when they are empowered to fulfill their mission," said Thomas Homan, ICE Deputy Director. "We need to maintain this momentum by matching the dedication and drive of our personnel with the resources they need to perform at even higher levels. "
The report also found that even though border arrests are significantly down for the entire year, the number of border arrests have increased every month since May — suggesting that the months immediately following Trump's inauguration may have seen the biggest drops in border crossings.
The report's overall findings will likely be welcome news for the Trump administration, which has made explicit its goal of reducing the number of undocumented individuals entering the U.S.
The report comes as Congressional Democrats are threatening a government shutdown if Republicans do not agree to a permanent fix for the Deferred Action for Childhood Arrivals program, or DACA, in this week's negotiations over the budget.
On Monday The Hill reported that Democratic leaders are considering including several Republican proposals for increased border security as part of a deal to save the program, which protects nearly 800,000 undocumented young people who entered the country as children.
On the heels of this report showing the dramatic impact that increased border enforcement is already having, including those provisions will likely not sit well with some immigration activists.
Many DACA recipients have been pushing for a so-called "clean DREAM Act," or a fix to the DACA program that would not include any increased border security or funding for Trump's infamous border wall.
Undocumented activists told Mic in October that they will resist letting politicians use their protected status as leverage for policies that they believe will adversely impact their families and communities.