Why is it so hard to get mental health treatment covered by insurance? Patients face this catch-22.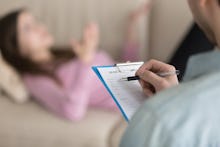 Imagine you have an eating disorder, yet are limited to just three nutritional counseling sessions annually — despite no similar cap on appointments for patients with diabetes. Or that an insurance company questions the sincerity of your suicide attempt and refuses to cover inpatient psychiatric evaluation. Or that because your anxiety symptoms haven't turned to panic in several months, your insurer won't cover weekly social work visits.
None of these scenarios are hypothetical. In 2014, New York Attorney General Eric Schneiderman came to a settlement with Cigna Corporation on behalf of plaintiffs with mental health conditions — mostly eating disorders — who claimed they were unfairly charged more than $33,000 out of pocket for nutritional counseling.
That second example was shared with me by a psychiatric consultant who asked to remain unnamed to avoid professional repercussions, but who has served private insurance carriers as clients, helping them conduct "medical-necessity reviews," the independent evaluations of provider service eligibility that can make or break the success of your insurance claims.
And that final situation has happened to me personally: being cut off from covered therapy and limited to a handful of visits each year because my insurer ruled more frequent sessions "not medically necessary."
Indeed, insurers deny coverage for mental health treatment at a measurably disproportionate rate. Nearly 30% of Affordable Care Act-enrolled, private-insurer customers reported a denial of mental health care to themselves or a family member on the basis of "medical necessity" — more than double the proportion of patients denied general medical care — in a 2015 survey by the National Alliance on Mental Illness.
Boiled down, what this means is that mental health patients frequently face a catch-22: Either skip treatment, or pay out of pocket for care.
That's not what the law has intended. The landmark Mental Health Parity and Addiction Equity Act of 2008 mandated that mental health and substance abuse claims be fundamentally covered on par with medical or surgical procedures. So the discrepancy between medical and mental health care coverage rates suggests insurers could be running afoul of the rules, a notion supported by increasingly common settlements by attorneys general like New York's Schneiderman, who also prevailed on behalf of Cigna customers on the autism spectrum just this past January.
In large part, experts say, that's because old preconceptions about mental wellness have persisted — and prejudiced outcomes.
"It's easy to say, when you have a heart attack, this is what the protocol is," said Phyllis Foxworth, vice president of advocacy for the Depression and Bipolar Support Alliance, a nonprofit that provides support, education and resources for those with mood disorders, in a phone interview. "It's a little more difficult when you're living with a mental health condition and you know there could be different ways to treat it."
Of course, an insurer or managed-care company's legal culpability is ultimately "in the hands of a court," said Lloyd Sederer, an adjunct professor at the Columbia University Mailman School of Public Health. Complicating matters is the fact that attorneys general are more likely to base action on state laws than on the federal MHPAEA, Sederer said — and those laws vary from state to state: "It would be great if other AGs went after this," he said. "Are we anywhere near reaching parity for mental health and substance problems? No."
In other words, it's tough to widely enforce those MHPAEA parity guidelines without clear definitions for what constitutes behavioral health and what mental health treatments are truly "necessary." As Foxworth puts it, "Medical necessity is a big, dark hole around mental health parity."
Insurance companies are incentivized to keep costs low, so "if plans can get away with cutting off treatment after a period of time, many will do that," Ron Honberg, Senior Policy Advisor for NAMI, the organization that authored the survey about the coverage, said in a phone interview.
The problem, Honberg adds, is that it's hard to get "some of the emerging therapies" surrounding behavioral health — which might include mindfulness training or behavioral activation, as compared to, say, accepted courses of rehabilitation for back pain or an infectious virus — "recognized as evidence-based practices."
What is it like to have a claim denied?
In my experience, getting insurers to cover mental health services is a continuous struggle: I've opened countless pieces of mail from signatories, following medical necessity reviews, that effectively downgraded my symptoms and concluded I wasn't unwell enough for coverage.
The problem is that preventive care is often "inessential" — until it isn't. While my bouts of panic have subsided, I believe regular treatment, including cognitive behavioral therapy visits and routine medication management, has helped protect me from recurring incidents. Yet getting the help I need without going broke has meant undertaking exactly the kind of effort that would trigger stress and anxiety for anyone: Spending hours on the phone haggling and sharing intimate details with customer service reps — strangers — just to prove I'm being honest.
Eventually, my claims have almost always been covered in full, which is to say I am one of the lucky ones. Those with more trying conditions, who are bipolar, traumatized by war or are trying to overcome substance abuse could conceivably have a much harder time with self-advocacy. Furthermore, those who lack the resources I have — including freelance work that provides me with a flexible schedule, as well as a supportive spouse — could have an even harder time fighting back when they are asked to pay for care out of pocket.
That's why one of the biggest challenges for groups fighting to protect mental health patients' financial security and rights, like NAMI, is reforming medical necessity reviews — and legitimizing patients' diagnoses to begin with.
Who decides on medical necessity?
Medical necessity reviews are typically conducted by "utilization review" or "utilization management" departments, whether a patient is enrolled through the Affordable Care Act, through their employer, or via Medicaid or Medicare, according to insurer consultants. These departments are generally staffed with outside medical professionals hired as consultants or as full-time employees, and they may look to health care-support providers — like McKesson's InterQual and MCG — for guidelines on evidence-based criteria.
A medical director with a background in psychiatry typically oversees the teams of social workers, nurses and other professionals. One such supervisor is Dr. Taft Parsons III, chief medical officer for Molina Healthcare of Michigan, which provides health care benefits to state residents covered by government programs.
Why are claims sometimes denied? Parsons explained that professionals in his position typically cross-reference doctors' notes with the criteria laid out by MCG or InterQual, and then decide whether coverage is appropriate.
"A lot of times, the information that was documented and submitted didn't meet all the criteria in the guideline, and so we can't approve payment for that," Parsons said.
Parsons said he disagrees with the idea that claims aren't conscientiously evaluated, arguing that "when somebody gets a determination that something was not medically necessary, a physician has looked at that and compared the information submitted from a patient's clinician to the insurance company and reviewed it based on the guidelines for the care provided."
What would ensure mental health patients are covered fairly?
One simple solution would be for providers — meaning doctors and other professionals offering mental health care — to become more familiar with the medical necessity criteria by which claims are judged. If clinicians anticipate the language that triggers insurance denials, they could tailor patient reports to offer honest assessment — but not accidentally cause a denial.
"A lot of times, what we find is that the documentation in the clinical notes is not the greatest or what we need," Parsons explains. "So we try and coach and educate, and a lot of times we can prevent a denial and needing a discussion later on about why something got denied."
But developing expertise in utilization review asks a lot of social workers and psychiatrists, who are already expected to stay up to date on the field's newest methods and the latest alphanumeric coding sequences for the hundreds of recognized disorders in the DS-M, or American Psychiatric Association's Diagnostic and Statistic Manual of Mental Disorders.
"Coding is just a system for labeling, and the DS-M has a label for everything," said Marsha Wineburgh, a Manhattan-based private therapist and legislative chair for the New York State Society for Clinical Social Work, in an interview at her Manhattan office. The current administrative burden only makes it easier, she said, for insurers to manipulate the determination they want.
"Mental health is invisible," she said. "They have definitions of medical necessity, which allow them to challenge any treatment for any reason. It's all about money." In Wineburgh's experience, it's rather plain: Patients mean dollars, and insurers will seize every opportunity to cash in.
Indeed, insurers tend to exploit any wiggle room for interpretation regarding behavioral health outcomes, according to Julie A. Rice, a Joshua Tree, California-based private psychotherapist who co-authored the independently published 2014 ebook, Mental Health Billing From Claims Denied to NPIs: Tips for the Baffled, Bewildered, Befuddled Provider.
"What we have to remember first of all is that insurance companies are there to make money for their shareholders," she said in a phone interview. "So what they are able to not cover makes sense for them. I'm certain their representatives want to say they want to provide excellent care for people, and I think they're caught in a bind there. Any ambiguity in mental health parity can only contribute to that."
But that kind of criticism has flaws, Parsons said. He acknowledges that, "Yes, all publicly traded companies have some responsibility to shareholders." (Not all health care providers are for-profit.) Yet "the manner in which we best balance and fulfill those responsibilities is by making sure our members get the best evidence-based care at the right time, in the right setting, for the right price," he argued.
Parsons points out that private treatment centers also have to weigh seemingly competing needs: "Privately owned psychotherapy clinics have responsibilities to the patient, but are also working to make a profit for the owners," he said. "There is nothing wrong with that. Ensuring that a clinic provides good evidence-based care should be rewarded financially through more patients and increased payment for services. High-quality, managed care results in less health care cost overall, rather than restrictions of necessary services."
Representatives from private companies including Oscar, Aetna, United and MVP declined to comment for this story, referring me instead to their trade association, America's Health Insurance Plans. Kristine Grow, senior vice president of communications for AHIP, seconded Parsons' argument.
"Health plans are making decisions about how to ensure that the people they serve are getting the best results for every dollar they spend on coverage and care," she responds. "It's as simple as that."
Just this August, AHIP sent a comprehensive letter to then-Secretary of Health and Human Services Secretary Tom Price pressing for greater clarity in parity laws concerning mental health and substance-abuse coverage, as well as work shortages across the board in behavioral health. That's in addition to a 2017 MCG Health review discussing the kinds of worrisome discrepancies seen in NAMI's study on behavioral health denials.
Would integrated care help?
Almost all parties I interviewed said the surest way to eliminate gaps in how benefits are dispensed is a movement toward "integrated care." The National Institute of Mental Health describes integrated care as an approach that "blends the expertise of mental health, substance use, and primary care clinicians, with feedback from patients and their caregivers."
In other words, it's a holistic, interdisciplinary intervention to improve patients' overall well-being. The obstacle is the traditional, siloed training most clinicians receive from medical school forward: Rather than a cardiologist inquiring only about dietary and exercise habits or family history of heart attacks, they might also ask about pressures at work and home that might be inducing anxiety, for example. And instead of a therapist focusing narrowly on past experiences and present moods, they might consult surgical colleagues about physiological conditions harmful to a patient's state of mind.
It's a practical shift, but also an existential one for a profession that's long been carved up into specialties. "The movement [toward integrated care] is coming from both sides," said Michael Dwyer, associate executive director of the Zucker Hillside Hospital in Glen Oaks, NY, part of that state's expansive Northwell Health network of providers.
Dwyer emphasizes that Northwell facilities, for example, are placing behavioral health providers in primary health care practices and vice versa for "one-stop shopping." This means a patient managing, say, generalized anxiety, needn't see a specialist for every single antidepressant refill, smoothing the way to coverage. Nor would a behavioral health inpatient with limited money have to track down a separate in-network doctor if their anxiety seems to be causing eczema flare-ups, for example.
The thinking with behavioral health patients, Dwyer said, is that "if you can catch where they're at when you have them, you have a much greater chance of engaging them and having successful outcomes." It's about having all hands on deck and expertise available from intake onward, Dwyer said, minimizing the chance that anyone slips through the cracks.
But Wineburgh said she has difficulty envisioning integrated care as a widespread reality. It's not because she doubts the intentions of peers like Dwyer. She said she finds it harder to picture medical schools suddenly altering specialized curricula in favor of a more interdisciplinary approach.
"The day when primary care physicians have continuing education in prescribing psychotropic drugs, that would be great," she says. "But I don't think it's going to happen."
Still, Wineburgh said, integrated care is an ideal worth striving for, even if that means meeting in the middle: "If you've been on the same medication for three years and been 'steady Eddie,' it seems reasonable that a primary care physician could [follow up with] you, as long as every now and then you went back to a psycho-pharmacologist [or] psychiatrist for review."
Can you improve your chances of getting insurance to cover mental health treatment?
Increased awareness, education and government intervention like New York Attorney General Schneiderman's actions are helping improve mental health parity. But until perceptions and practices change in a uniform way, Americans with mood disorders, suicidal tendencies, signs of PTSD, eating disorders and addiction could experience an uphill fight to justify their illness to insurers.
When appealing denials based on supposed lack of medical necessity, financially and emotionally vulnerable patients are often left feeling like they're "fighting city hall," Sederer, the Columbia adjunct professor, said.
How can you fight back if you find yourself in this situation? Sederer suggests you "go directly to the medical director of the plan," though he points out that it can be trying: "It's not that they don't say yes sometimes, but overall, they're an impediment more than they are a facilitator."
As Wineburgh puts it, "It's hard enough to manage a mental health problem. You can't manage the system."
Parsons said he acknowledges that navigating the appeals maze can be daunting for behavioral health claimants with varying degrees of everyday functioning. But it's no more daunting, he said, than their inevitable encounters appealing medical claims, statistically less frequent as those occurrences might be: "A lot of times, we utilize the providers we contract with to act on the member's behalf," he said. "Most companies have a process before they get into a formal appeal, whereby a provider that has provided care... when they get a negative response from the insurance company, they can usually call and speak with a clinician ... to say, 'What is it that was missed? What other information do you need to get this improved?'"
Of course, the unfortunate reality, as Wineburgh pointed out, is that providers won't always have the time — no matter their inclination — to get involved before claims get rolling. This means that the burden is on patients to protect themselves by doing research before enrolling with a health care plan, understanding their right to appeal and being their own advocate.
It means refusing to allow denial letters to double as deterrents; calling insurers' toll-free lines and insisting on speaking directly with someone in behavioral health management, and in turn putting them in touch with your provider when appropriate; seeking out the counsel and support of organizations like NAMI, Wounded Warrior Project, National Eating Disorders Association and the Legal Action Center when all feels lost; and reminding yourself that it's not only about financial redemption, but taking back ownership of your condition and treatment.
It helps to know your rights. The Centers for Medicare & Medicaid Services issues its own suggested federal guidelines, stating that outpatient psychiatric hospital services are "reasonably expected to improve the patient's condition," for example. And more fine-print rules are written out in texts like the Medicare Claims Processing Manual.
You might also take Wineburgh's advice and try to incite change from the top down. Her recommendation to aggrieved patients? Put the ball in your elected officials' court. "People need to go to their state legislators and tell them what their experience is and ask for their help," she said. "I see this as a legislative issue, and I don't think legislators know about it. We need social policy that reinforces the need to treat mental health the same as medical health."
Sign up for the Payoff — your weekly crash course on how to live your best financial life.