Trayvon Martin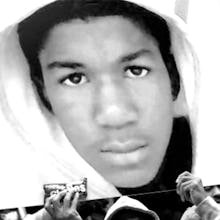 This article is part of the Black Monuments Project, which imagines a world that celebrates black heroes in 54 U.S. states and territories.
Trayvon Martin was known to be a quiet teenager and a standout recreational league football player with a healthy appetite. He also wanted to fly or fix planes.
None of that mattered on Feb. 26, 2012, when the 17-year-old son of Tracy Martin and Sybrina Fulton was walking back from a nearby 7-Eleven to his dad's home in a gated Sanford, Florida, subdivision. Martin was armed only with a can of Arizona iced tea and a bag of Skittles when he was ultimately shot by the reportedly self-appointed neighborhood watchman George Zimmerman. It was revealed during Zimmerman's trial that he followed Martin even though a 911 dispatcher advised him that he didn't need to do so, the Miami Herald reported.
On July 13, 2013, a jury found Zimmerman, who claimed self-defense, not guilty of murder and manslaughter. The societal impact of that verdict cannot be overstated: The decision divided the United States along racial lines in ways not seen since the 1995 acquittal of O.J. Simpson. However, it also compelled three black women to create the Black Lives Matter hashtag on Facebook the very same day and ultimately spawned a new generation of civil rights activists.
"Black people. I love you. I love us. Our lives matter," Black Lives Matter co-founder Alicia Garza posted on Facebook that day, after learning of the Zimmerman verdict, Vocativ reported. Her friend and fellow co-founder Patrisse Cullors later declared boldly that "black bodies will no longer be sacrificed for the rest of the world's enlightenment," before adding the hashtag #BlackLivesMatter.
What began as a social media rallying cry affirming the sanctity, dignity and humanity of black people has evolved into the Black Lives Matter network with chapters across North America that address all forms of racism and white supremacy. It is a movement that has touched millions of people across the world, and has affected politics, fashion, sports, entertainment and other industries that impact our daily lives. It's the driving force behind why we uplift Michael Brown, Sandra Bland, Ezell Ford, Philando Castile, Charleena Lyles and other victims — those of police violence and of racially charged acts of violence.
"Our movement has utilized [Trayvon] as one of the first martyrs of this generation's fight against vigilantes and state violence," Cullors said in an emailed statement. "We have to remember those who have fallen because their lives have shaped a new generation of activism."
In 2018, the Black Lives Matter movement will commemorate its fifth anniversary. It has impacted a generation of young minds and propelled political candidates. It has helped shape local and national government policies around policing, mass incarceration reform and poverty, as well as issues affecting black women and LGBTQ people of color.
The lasting legacy of the Black Lives Matter movement is yet to be determined. But remembering Trayvon Martin and the lack of justice served to so many other victims is the first step toward keeping the rallying cry alive.