Here's how the LA's Getty Museum is protecting priceless works of art from the encroaching wildfires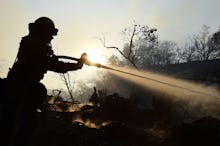 To say Los Angeles is a burning inferno right now would be an understatement.
On Wednesday, large swaths of the city's most affluent neighborhoods, including Calabasas, Brentwood and Bel Air, were scorched by what authorities are calling the "Skirball fire." That fire has caused more than 46,000 people to evacuate their homes, according to authorities.
But one group standing its ground is the employees of the Getty Museum, which happens to be right on the edge of the evacuation line.
"It is the safest place for art," a Getty spokesperson told Mic via email. "The Getty Center was designed as a Type A fire-resistant complex, with sophisticated air filtration and fire protection systems."
Sophisticated, indeed. As the Los Angeles Times explained, the center has absolutely no plans to evacuate any of its priceless art, simply because it will not have to.
The museum, according to the Times, is more concerned about air quality than it is about the flames themselves. Its high-tech air filtration system, which forces air out of galleries rather than pushes it in, should stop any particulates from ever entering sensitive areas. If the building is sealed, the art is safe.
Ron Hartwig, the museum's vice president for communications, explained to Arts Journal that the landscaping around the museum was specially planted using high water content flora and fauna to protect the building.
The building itself will also act as a last line of defense.
"Even where there are windows, there are shades to drop and they're water-drenched and so forth," Hartwig said.
Hartwig noted to the Times that should the Getty ever need to evacuate human beings, it can. If it happens, both staff and visitors would be escorted off site and security essential personnel and the art, which lives in "the wealthiest art museum in the world," would remain behind.
The museum, the spokesperson told Mic, will remain closed Thursday.