Mic Wakeup: Here's everything happening with Al Franken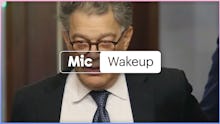 It's Thursday, Dec. 7. Here are three stories you need to read.
Several Democrats are asking Al Franken to resign
On Wednesday, a handful of Democrats officially asked Minnesota Sen. Al Franken to resign over several sexual misconduct allegations.
Those Democrats calling for his resignation included: Maggie Hassan(D-N.H.), Patty Murray (D-Wash.), Kamala Harris (D-Calif.), Claire McCaskill(D-Mo.), Tammy Baldwin (D-Wis.), Sherrod Brown (D-Ohio), Bob Casey (D-Pa.), Dick Durbin (D-Ill.), Joe Donnelly (D-Ind.), Debbie Stabenow (D-Mich.), Heidi Heitkamp (D-N.D.), Maria Cantwell (D-Wash.), Pat Leahy (D-Vt.), Dianne Feinstein (D-Calif.), Ron Wyden (D-Ore.), Michael Bennet (D-Colo.), Tom Carper (D-Del.), Tammy Duckworth (D-Ill.), Martin Heinrich (D-N.M.), Amy Klobuchar (D-Minn.), Jeff Merkley (D-Ore.), Sen. Bernie Sanders (I-Vt.) and Kirsten Gillibrand (D-N.Y.).
In a Facebook post calling for his resignation, Gillibrand said, "While Sen. Franken is entitled to have the Ethics Committee conclude its review, I believe it would be better for our country if he sent a clear message that any kind of mistreatment of women in our society isn't acceptable by stepping aside to let someone else serve."
Here's what happens if he actually resigns
If Franken decides to heed the warnings of his Democratic counterparts and resigns, then Minnesota Gov. Mark Dayton, who is also a Democrat, would lead the charge in appointing a short-term replacement.
Next, a special election would be held in 2018 to fill the vacated seat. The winner would hold that seat until 2020, when Franken would have come up for re-election anyway.
Where are the Republicans?
Unlike their Democratic counterparts, Republicans have been decidedly quiet when it comes to giving their own thoughts on Franken.
"How [Democrats] police it, that's an internal issue for them to deal with," Sen. Bob Corker (R-Tenn.) said in a statement to Mic.
Perhaps their silence is due to the fact their party is weathering its own sexual misconduct storm. Allegations of misconduct have been levied against Rep. Blake Farenthold (R-Texas), President Donald Trump, and most notably Roy Moore, the Republican candidate running for Senate in Alabama.
"I do believe, similar to the allegations on Mr. Moore, Mr. Franken has some serious allegations against him," Sen. Thom Tillis (R-N.C.) said. "All that needs to be born out in the ethics review. And if these [allegations] are proven to be accurate, he should resign."