What to know about the FBI's "black identity extremists" label and the black community's response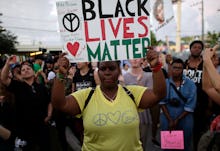 In the two months since it became public that the FBI deems "black identity extremists" a violent threat to police, a chorus of condemnation over the label has grown louder. Opponents include black lawmakers, Black Lives Matter activists and even black police officers. All are outraged at the agency's controversial document linking isolated incidents of violence against law enforcement to contemporary black-led movements that seek an end to abusive and lethal practices by police.
The label became public in October when Foreign Policy published a leaked copy of an FBI counterterrorism assessment titled, "Black Identity Extremists Likely Motivated to Target Law Enforcement Officers." In the report, the agency suggests it is tracking mass killers like Micah Xavier Johnson, a black man who shot and killed five police officers in Dallas in July 2016. Johnson hasn't been linked to any active black extremist group.
"It is very likely black identity extremist perceptions of police brutality against African-Americans spurred an increase in premeditated, retaliatory lethal violence against law enforcement and will very likely serve as justification for such violence," the FBI stated in their assessment.
The report's use of broad language suggests it could apply to more than people expressing extremist or violent viewpoints, activists and lawmakers have said. The FBI is infamous for having targeted civil rights movement activists under COINTELPRO — a wide-ranging surveillance and subversion program that had adverse effects on black activists and their social justice campaigns.
The feds wiretapped and sought to intimidate the Rev. Martin Luther King Jr., at the height of his influence in the movement. Information obtained from an FBI informant helped police in Chicago carry out the bloody raid that killed Black Panther Party activists Fred Hampton and Mark Clark, nearly 50 years ago. On Monday, people on social media commemorated the deaths of these activists, with many still deeming the raid an assassination.
It's with that history in mind that black community leaders have sought answers — and a pledge to scrap the label — from federal law enforcement officials. Here are the latest developments in their effort:
Activists blast BIE as the same old "bullshit"
Soon after the BIE label became public knowledge, activists in groups affiliated with the Movement for Black Lives used their platforms to warn followers about the label's potential consequences. Janaya Khan, co-founder of the Black Lives Matter Global Network's Canada chapter, flat out called the black identity extremist label "bullshit" meant to justify the criminalization and surveillance of black people, in general.
"The only consistent thread that classifies black identity extremism is being black," Khan, who is now based in Los Angeles, said in a video statement about the label.
Condemnation has also come from legacy organizations, such as the NAACP. In October, the group questioned the timing of the FBI's assessment document's creation. It was published internally in August, days before the deadly "Unite the Right" rally of neo-Nazis and white nationalists in Charlottesville, Virginia.
"We do have a real threat in the United States and it's the rise of right-wing extremists, white nationalists and white supremacists, who have been emboldened by this administration," NAACP president Derrick Johnson said in October.
Black lawmakers drag Justice Department and FBI leaders over BIE
Echoing the concerns of BLM and civil rights activists, members of the Congressional Black Caucus recently took Attorney General Jeff Sessions and FBI Director Christopher Wray to task over the label. In public and private meetings, Sessions and Wray have yet to provide convincing rationale for the label's existence, Rep. Karen Bass of California said in an interview with Mic on Thursday
"Just because you happen to be African-American, and you happen to have a problem with your police department, I don't think that makes you a 'dangerous extremist,'" Bass, whose exchange over BIE with Sessions during a Nov. 14 hearing of House Judiciary Committee went viral on social media, said in the interview.
"When people are protesting against police abuse, that is completely consistent with the first amendment," Bass said.
After a private meeting, CBC members said, Wray promised to consider their request to publicly address about the assessment's claim that any black extremist groups currently exist. The FBI director reiterated that pledge during an oversight hearing on Thursday.
Civil rights groups want to know just how far BIE goes
Some civil rights watchdogs have said it's imperative to learn just how far-reaching the BIE label is among federal agencies. Groups such as the American Civil Liberties Union, the Center for Media Justice and Color of Change have filed records requests with the Justice Department, the FBI and the Department of Homeland Security, in search of emails, memos or other documents that show federal agents discussing the label.
So far, emails have shown DHS officials considered the 2016 Republican and Democratic conventions as a target for violence from "black supremacist extremists." Other activists groups recently gained access to police records that show officers surveilled and possibly infiltrated the Movement for Black Lives organizations, including those organizing in New York City.
Stephanie Llanes, a lawyer at the Center for Constitutional Rights, one of the groups that gained access to the DHS emails, said the emails confirm that younger black activists have been saying for years.
"This surveillance is not some conspiracy," Llanes said in an interview on Thursday. "This is real, and it is happening. Knowledge is power, and I think it's important for people to really understand exactly what the government is doing."
Black police officers are disappointed in how BIE came to be
In an exclusive interview with Mic, the nation's largest group for black law enforcement leaders, said BIE is, in part, the result of lacking diversity in the bureau. Clarence Cox, president of the National Organization of Black Law Enforcement Executives, said he personally asked the FBI director to consider hiring and consulting with black experts before publishing potentially harmful and incendiary documents like BIE.
"I didn't feel that this BIE intelligence was healthy for the conscience of our country and, particularly, of African-Americans," Cox said in a phone interview in November. "It reminds me so much of what we went through as African-Americans, or what civil rights leaders went through, when they were unconstitutionally targeted by state, federal and local agencies."
Now, BIE opponents are waiting for the FBI to discard the label
Ultimately, activists, lawmakers and the black police group want federal law enforcement officials to scrap the BIE document and refrain from ever using the label in the future. Bass, the California congresswoman, said she and other black lawmakers are prepared to keep the pressure up until that happens.
"You know, when I was a young activist many years ago, during the COINTELPRO time, we really didn't have an ability to respond to [it,]" Bass said on Thursday. "I don't want this generation of activists to have to go through that."