Mic Wakeup: All the places you should look for a new job in 2018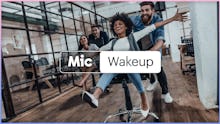 It's Friday, Dec. 8. Here are three stories you need to read.
These are the best places to work in 2018
The new year is quickly approaching, and with it, you may be thinking of getting a brand-new job. But where should you begin? For starters, there's this "best places to work" list.
Each year, employment website Glassdoor compiles a list of the top 100 companies to work for based on employee reviews. The site uses such criteria as compensation, benefits and company leadership to arrive at the rankings — and once again, Facebook is America's best place to work.
The rest of the top 10 list offers a broad spectrum of opportunities across several industries, including companies like Ultimate Software, Google, HubSpot, Lululemon and more.
Try these 15 emerging careers
If you're looking to totally overhaul your skills and try a completely new path in 2018, you may want to look into one of these emerging careers — and no, they aren't all in tech.
"We were pleasantly surprised to see roles like barre instructor as one of the emerging jobs, as well as other non-tech roles continuing to grow in popularity," Rachel Bowley, a data scientist at LinkedIn, said in an interview.
To figure out which careers are growing the fastest, LinkedIn identified the job titles that appeared more frequently among users in 2017 compared to 2012. The site found plenty of data scientists and coding jobs, of course, but also discovered that realtors, sales representatives and customer service specialists were on the rise.
According to the site's findings, the job title "machine learning engineers" appeared 9.8 times frequently in 2017 than 2012, while "barre instructor" appeared 3.6 times more often. In other words, there's something for everyone — all you have to do is look.
Stay in your current job and chill out
Just because it's a new year doesn't mean it has to be a new you. Instead of finding a new job, you could always find new happiness in the one you have. And the best way to do that, according to experts, is to "turn it off" the second you leave the office.
"Dealing with technology 24 hours a day, seven days a week makes it difficult to just leave work at the office," Monique Honaman, partner and CEO at leadership and executive coaching company ISHR Group, said in an interview. "The lines are completely blurred between work and home hours, which is creating a lot of stress."
To help shut off your work brain, build in daily activities after hours to distract you from checking your phone. Try taking a walk, building a "device-free space" or any of the tips found here.