Colin Kaepernick visits inmates at New York's Rikers Island prison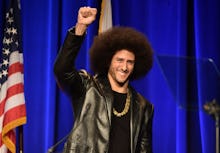 Colin Kaepernick may not be playing football right now, but his work as an activist in the black community is clearly far from done.
On Tuesday, the free agent quarterback visited Rikers Island in New York to offer words of wisdom and encouragement to incarcerated people affiliated with the 100 Suits for 100 Men charity program.
In 2016, Kapernick donated $33,000 to 100 Suits, according to the group's founder Kevin Livingston, whose organization provides free business attire to underprivileged men and women looking for job opportunities.
Livingston said he worked with New York Mayor Bill de Blasio's office to arrange Kap's Rikers visit.
"We were there for about three hours talking to my guys, having conversations one on one," Livingston said in a Tuesday phone interview. "Kaepernick was able to inspire my young people. It was very well attended."
Elias Husamudeen, president of New York's correction officers' union, expressed outrage after learning about Kap's visit, according to the New York Daily News.
"This will only encourage inmates to continue to attack Correction Officers at a time when we need more protection," he told the Daily News.
Livingston said the union boss's remarks were "surprising," because the officers at Rikers who met Kap were "very welcoming."
"They showed Kap nothing but love," Livingston said of the officers. "He received a lot of love from the staff. He encouraged the corrections officers. It wasn't like it was a standoffish situation. He was embraced heavily."
New York City Department of Corrections spokesperson Peter Thorne emailed a statement to Mic confirming Kapernick's visit.
"Colin Kaepernick visited Rikers today to share a message of hope and inspiration," DOC Thorne said via email.
On Friday, Beyoncé presented Kaepernick with the Muhammad Ali Legacy Award at the 2017 Sports Illustrated Sportsperson of the Year ceremony at the Barclays Center in Brooklyn, New York.
The former Super Bowl XLVII standout has been sidelined from the NFL since the end of last season.
His decision to sit and later take a knee during the National Anthem to protest against police brutality and oppression of black people has made him a lightning rod for controversy in the nation's ongoing political culture war.
President Donald Trump repeatedly has attacked Kapernick and the other NFL players who have taken up his activist stance in his pro-football absence.
Pundits like Fox News' Tomi Lahren have attacked Kap for supposedly being anti-cop, but Livingston said that wasn't Kap's message at Rikers and the officers there seemed to know he held no ill will toward them.
"He didn't speak about some ideology of hurting cops or hurting corrections officers," Livingston said. "It was very typical of Colin Kaepernick doing what he does."
Husamudeen also criticized de Blasio's office for helping to arrange Kap's visit.
"Once again, correction officers find themselves caught in Mayor de Blasio's political con-game," Husamudeen told the Daily News. "This is yet another brazen display of the hypocrisy of this mayor who pretends to support us in public, yet does everything possible to jeopardize our security in private."
In an emailed statement, de Blasio's press secretary Eric F. Phillips said Kaepernick should be applauded, not criticized.
"This is a guy using his celebrity to help young adults turn their lives around, to his own significant professional cost," Phillips wrote.