'Politifact' names Donald Trump's denial of Russian election interference its "lie of the year"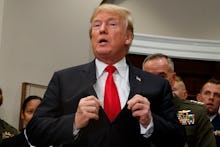 On Tuesday, Politifact revealed its choice for "lie of the year," a distinct honor that went to President Donald Trump and the "whole Russia thing."
In its announcement, Politifact pointed to the overwhelming evidence that proved Russians interfered with the 2016 presidential election, including both classified and public reports showing Russian President Vladimir Putin giving direct orders to Russian officials to do so.
"Those actions included the cyber-theft of private data, the placement of propaganda against particular candidates and an overall effort to undermine public faith in the U.S. democratic process," Politifact wrote. The report also cited the fact that large tech companies like Facebook, Google and Twitter conducted independent investigations and concluded Russia used their networks to meddle in the election.
Politifact made sure to point directly at Trump in its piece, calling out the president for repeatedly saying no interference ever occurred.
"This Russia thing with Trump and Russia is a made-up story. It's an excuse by the Democrats for having lost an election that they should've won," Trump told NBC's Lester Holt in May.
As Politifact pointed out, the president also tweeted in September: "The Russia hoax continues, now it's ads on Facebook. What about the totally biased and dishonest media coverage in favor of crooked Hillary [Clinton]?"
So, why does it really matter that Trump continues to ignore the data and lie to the American public?
"When the nation's commander-in-chief refuses to acknowledge a threat to U.S. democracy, it makes it all the more difficult to address the problem," Politifact wrote. "For this reason, we name Trump's claim that the Russia interference is a hoax as our lie of the year for 2017."
Politifact isn't alone in making this decision — its readers also chose this lie as the "most significant falsehood" by a large margin.
"I've worked for both parties," Nicholas Burns, ambassador to NATO under former President George W. Bush, said during public testimony to Congress in the summer, according to Politifact. "It's inconceivable to me that any of President Trump's predecessors would deny the gravity of such an open attack on our democratic system. I don't believe any previous American president would argue that your own hearings in the Senate are a waste of time or, in the words of President Trump, a witch hunt. They're not; you're doing your duty that the people elected you to do."