Mic Wakeup: Doug Jones pulls out stunning victory over Roy Moore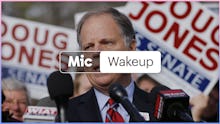 It's Wednesday, Dec. 13. Here's everything you need to know about Doug Jones' victory in Alabama.
Doug Jones beat Roy Moore in a historic Senate race
Late Tuesday evening the polls closed in Alabama and Democrat Doug Jones was announced as the winner of the state's contentious Senate race. He is the first Democrat to win a Senate race in the state in 25 years.
Jones defeated Moore in a tight special election race. With 100% of the precincts reporting, Jones finished with a 49.9% to 48.4% victory, according to the Associated Press, which was the first outlet to call the race for the Democrat.
The seat became available for special election after President Donald Trump appointed Jeff Sessions as his attorney general. Because this is a special election, Jones will serve the rest of Sessions' term, which is set to expire in 2021.
Moore has so far refused to concede
Shortly after most major media outlets had called the race for Jones, Moore addressed his supporters, telling them "when the vote is this close, it's not over." He and his team alluded to a possible automatic recount, which, according to Alabama state law, is triggered when the final vote counts are within a half a percentage point. Jones finished with a lead of 1.5% percentage point. While the state's military votes still had yet to be counted, Alabama Secretary of State John Merrill said it was "highly unlikely" that the outcome would change.
Moore will still be a problem for Republicans
Despite losing, Moore will likely remain a very painful wound for the Republican party for some time to come.
Moore — who was accused by multiple women of sexual misconduct and child molestation, an accusation that he vehemently denies — was still strongly endorsed by Trump because he chose party over country.
"Democrats' refusal to give even one vote for massive tax cuts is why we need Republican Roy Moore to win in Alabama," Trump tweeted on Dec. 4. "We need his vote on stopping crime, illegal immigration, border wall, military, pro life, V.A., judges, Second Amendment and more. No to Jones, a Pelosi/Schumer puppet!"
And it was this political maneuver that not only galvanized Trump's critics against him, his party and Moore, it also divided Republicans into two camps as well. Several members of the GOP voiced their concerns over Moore and a few, like Senator Jeff Flake, went as far as supporting Jones instead.
Even the Republican National Committeewoman Joyce Simmons resigned over the party's support of Moore.
"It's a Lady Macbeth kind of stain," Stu Rothenberg, a nonpartisan political analyst, said when discussing a hypothetical Moore win. "Yes, Democrats would run against him — and the GOP — for the next year."