Salma Hayek pens 'New York Times' op-ed describing repeated harassment from Harvey Weinstein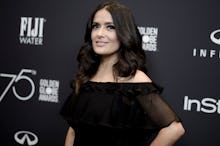 Actress Salma Hayek on Wednesday became the latest Hollywood A-lister to accuse disgraced studio executive Harvey Weinstein of sexual harassment and misconduct.
In a New York Times op-ed, the critically acclaimed actress said she endured multiple incidents of sexual harassment from Weinstein while producing and starring in the Academy Award-winning biopic Frida for his studio Miramax.
Hayek wrote that, in addition to trying to pressure her into sexual acts, the studio head made her jump through hoops to get her passion project about the life of Mexican artist Frida Kahlo made.
"When he was finally convinced that I was not going to earn the movie the way he had expected, he told me he had offered my role and my script with my years of research to another actress," Hayek wrote of Weinstein. "In his eyes, I was not an artist. I wasn't even a person. I was a thing: not a nobody, but a body."
Hayek wrote that even after a legal battle Weinstein was going to kill her film unless she agreed to do what she called a "senseless" lesbian sex scene with full-frontal nudity.
"[Weinstein] had been constantly asking for more skin, for more sex," Hayek wrote. "I arrived on the set the day we were to shoot the scene that I believed would save the movie. And for the first and last time in my career, I had a nervous breakdown: My body began to shake uncontrollably, my breath was short and I began to cry and cry, unable to stop, as if I were throwing up tears."
Los Angeles detectives have been investigating potential criminal charges against Weinstein since the New York Times published its scathing October article detailing numerous women's accounts of his inappropriate sexual advances and harassment toward them.
Allegations against Weinstein re-sparked the #MeToo movement created a decade ago by feminist activist Tarana Burke. It opened a floodgate of sexual harassment and misconduct accusations against other powerful men in Hollywood, as well as in the worlds of comedy, music and politics.
Hayek joins a long list of Weinstein accusers that includes Ashley Judd, Lupita Nyong'o, Gwyneth Paltrow and Angelina Jolie in addition to Rose McGowan, who accused Weinstein of raping her two decades ago.
In her op-ed, Hayek described feeling guilty about not coming forward with her story earlier this year after so many other women had told theirs about Weinstein, who she described as her personal "monster."
"All I knew of Harvey at the time was that he had a remarkable intellect, he was a loyal friend and a family man," Hayek wrote about her early impression of the studio exec. "Knowing what I know now, I wonder if it wasn't my friendship with [director Robert Rodriguez and producer Elizabeth Avellan] — and Quentin Tarantino and George Clooney — that saved me from being raped."