The 'Top Chef' Effect: How does the TV show impact tourism in its host cities?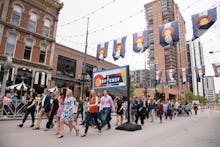 Much has been made about the "Top Chef effect," a term that describes how Bravo's food competition show attracts visitors to its host city and contestants' hometowns. The show, which has previously highlighted Charleston, New Orleans and Boston, has landed in Colorado — rotating between cities including Denver, Telluride and Boulder, for its newest season, which premiered Thursday, Dec. 7. The roving style isn't unprecedented: Top Chef has taken on other entire states over the years, including California and Texas.
Denver, where the show starts, has a modest culinary footprint in comparison to some of the show's other spots like Chicago, New York, Los Angeles or even Austin. According to the Colorado Restaurant Association's latest figures, under 5,000 eating and drinking venues call the Mile High City home (for comparison Chicago has 19,322 and Dallas has 13,763). Add that fact to growing local concern that the marijuana sector is stealing workers away from kitchen jobs, and the Mile High City is one area that could really use a little Top Chef magic.
What might a five-and-a-half week visit from Padma Lakshmi, Tom Colicchio and the rest of the crew actually do for this scenic state? We looked into how the show impacted two locations: Seattle, which aired from Nov. 7, 2012, to Feb. 27, 2013; and Charleston, which aired from Dec. 1, 2016 to March 2, 2017.
"The CVB hasn't released any numbers pertaining to the rumored Top Chef effect, but at an anecdotal level, there weren't any reports of upticks in restaurant business," Hanna Raskin, food editor and chief critic at Charleston's the Post and Courier, said in an email interview. Raskin covered season 14 weekly as it aired, and wrote a preseason article exploring this effect. "That said," she added, "Charleston already has a very active culinary tourism scene, so it's somewhat hard to measure."
Reliable statistics on restaurants opening after Top Chef were hard to find, but Seattle did see a small increase in its food industry numbers. The total number of people employed by full-service restaurants grew from 20,316 in 2010 to 21,473 in 2012, a gain of about 5.7%, according to the Seattle Office of Economic Development. Sandra Miller, the Washington Hospitality Association's Workforce development manager, said in an email through a spokesperson that Top Chef directly incentivized young chefs to relocate to Seattle to pursue their careers. "Washington has gained national notoriety as a proving ground for innovative chefs and new models for running restaurants," she said. "As a result, we find starstruck students from all over the country traveling to work with and meet these chefs."
Charleston didn't have any hard data as of yet, but it did pick up more than a few culinary awards in 2016, including being named the number two "Best Cities for Food in the U.S." in Travel + Leisure's reader-voted World's Best Awards. "Top Chef did for us what we expected it to do. The show made more people aware of Charleston's food scene," Suzanne Wallace, director of education & training for the Charleston Area Convention & Visitors Bureau, said in an email interview. "Our restaurants have said that people mention, 'We saw your chef or restaurant on Top Chef, so we're here to check it out.' The B-roll that was used during the show was also incredible — I'm sure that sealed the deal for newcomers."
"I honestly think Top Chef has made an impact on America's food culture as a whole," multi-season competitor chef Jennifer Carroll, a Philadelphia native who's most been working in the D.C. area, said in an email interview. "Washington, D.C., was a steakhouse town with the exception of some amazing restaurants before Top Chef filmed there. The show really highlighted the city and got developers, restaurateurs and out-of-town chefs to take to notice."
Dale Talde, a two-time contestant who helms several New York and New Jersey restaurants, also acknowledged the "Top Chef effect," suggesting that there are other locales even more deserving than Colorado. "Denver's dope — just think about how cool shots are going to look out there," he said in a phone interview. "But I'm biased about it. After what this country's been through with natural disasters, I hoped they would visit some of the places that have gone through it to help them dig out of it, some place like Detroit. But, I mean, good for Denver. I hope it murders for them."
There's more to picking a location than finding an up-and-coming food city. "Top Chef is not a cheap production," Talde said. "They can't just pick a place because they like it. You have to look at how feasible it is to have it there, what their access is, if it is in a major hub where they can get sushi-grade tuna next day. It's not cheap to house 15 contestant plus a 100-plus crew."
Potential hosts are aware of this, which is why they provide incentives to the production team. Colorado's Office of Film, Television & Media offered Bravo a 20% incentive to film in their home state, meaning for every dollar the production spends, the state covers 20 cents of that dollar. Similarly, the Texas state tourism office provided an incentive of $600,000 when Top Chef production came to their state in 2011, and New Orleans paid $375,000 in 2013. In turn, the locations are on display for millions of food-obsessed viewers a week.
"Do you know how much notoriety you get when millions of people are tuning in and watching you? There's a cult following," Talde said. "I can't tell you how many times people will come in and say, 'I loved you on the show.' Now do they come there specifically because I was on Top Chef? Maybe, but with tens of thousands of restaurants in New York City, if that's the hook, amazing."
Season 14 winner Brooke Williamson, who owns several restaurants in Southern California, has also noticed an uptick in business as well. "Top Chef has such a dedicated fan base and there are people out there who literally make it their mission to eat all the Top Chef restaurants," she said in a phone interview. "I actually had a woman a couple of months ago. She and her girlfriend at the time lived in Charleston and they were such fans that they made a special trip to my restaurant so that I could help her propose. That definitely isn't something that would have happened if it weren't for the show."
The only way for a place like Denver and its surrounding towns to really guarantee a post-Top Chef boom, it seems, is if an onscreen chef sticks around and lays down some roots there. St. Lucia native Nina Compton was on the New Orleans season, which aired from late 2013 to early February 2014. In 2015, she left Miami, where she worked for Scott Conant's Scarpetta, and moved to the Big Easy to open her restaurant, Compère Lapin. "Top Chef has given viewers the opportunity to see what's available in each of the cities where the show has been filmed," Compton said in an email interview. "Top Chefs who open restaurants after the show quickly become public figures, which results in being able to reach a greater audience," she added.
Will Colorado's future echo New Orleans? "I do think that the cities that Top Chef films in helps open the eyes of many in our industry to see that city as a place they can move to and work in," Carroll said. "No doubt the airing of Top Chef Colorado will help catapult the culinary scene there to the next level. I may hear Denver calling my name."
Correction: Dec. 15, 2017