Report: 3 women accuse Russell Simmons of rape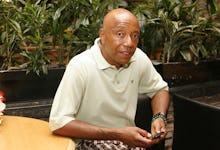 Three women have accused music mogul Russell Simmons of rape in an exclusive new report in the New York Times. A fourth woman also spoke on record alleging Simmons sexually assaulted her.
According to the Times, all of the women worked with Simmons in some professional manner throughout the years. Their assaults happened between 1988 to 2014.
All of the women noted to the Times that they felt powerless both at the time of their assaults and in the years following because of Simmons' power in the music industry.
"Russell was like the king of hip-hop," Drew Dixon, a former executive at Def Jam, told the Times.
According to Dixon, Simmons would often harass her in the workplace and graphically describe how she aroused him in meetings. In 1995, Dixon said, he raped her inside his own Manhattan apartment.
"I was broken," she added.
Singer Tina Baker said Simmons raped her in the early '90s when he was working as her manager. "I didn't sing for almost a year," she said. "The second he agreed to work with me, my budget increased, the label was paying more attention to me." However, following her assault, Baker said, "I went into oblivion."
In 1987 music journalist Toni Sallie said she dated Simmons briefly, but broke things off because she felt the two were not a match. However, in 1988 she said Simmons invited her to his home for a party. When she arrived, she said she was the only one there. "He pushed me on the bed and jumped on top of me, and physically attacked me," she said. "We were fighting. I said no." He raped her, said Sallie. And it wouldn't be his last alleged attempt; Sallie noted that just one year later, Simmons attempted to assault her again at a music conference.
You have to understand, I was very much in a man's game," Sallie said. "Black women were just starting to break into the field."
These aren't the only women who have accused Simmons of misconduct. In late November, Simmons announced that he would be stepping away from his businesses after writer Jenny Lumet accused him of rape.
"I vehemently deny all these allegations. These horrific accusations have shocked me to my core and all of my relations have been consensual," Simmons told the Times. He added:
"I am blessed to have shared extraordinary relationships, whether through work or love, with many great women; and I have enormous respect for the women's movement worldwide and their struggle for respect, dignity, equality and power. I am devastated by any reason I may have given to anyone to say or think of me in the ways that are currently being described. In recent weeks, some former business, creative and romantic partners have aired grievances as claims I categorically reject. In some of these instances, financial motives and direct contradictory witness testimony has been supplied to the media, which has been completely left out of stories. In the last few days, one woman attempted to extort me for $500,000 only to recant her ridiculous claim. The current allegations sent to me by The New York Times range from the patently untrue to the frivolous and hurtful. The presumption of innocent until proven guilty must not be replaced by 'guilty by accusation.'"
Russell closed his statement by saying he has "already apologized" for his "thoughtless" instances and has separated himself from both his business and his charities "in order to not become a distraction."