Mic Wakeup: More women accuse both Russell Simmons and Harvey Weinstein of assault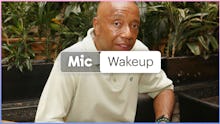 It's Thursday, Dec. 14. Here are three stories you need to read.
Three more women accuse Russell Simmons of rape
On Wednesday, the New York Times published an exclusive interview with four women accusing music mogul Russel Simmons of both rape and sexual assault.
"Russell was like the king of hip-hop," Drew Dixon, a former executive at Def Jam, told the Times. According to Dixon, Simmons raped her inside his own Manhattan apartment in 1995.
"I was broken," she said.
All four of the women, including Singer Tina Baker and journalist Toni Sallie, said their alleged attacks happened between 1988 and 2014.
"I vehemently deny all these allegations. These horrific accusations have shocked me to my core and all of my relations have been consensual," Simmons told the Times. Simmons was previously accused of rape by writer Jenny Lumet and has since stepped down from his companies.
Salma Hayek wrote a scathing op-ed calling Harvey Weinstein her "monster"
On Wednesday, the New York Times also published an op-ed written by actress Salma Hayek in which she accuses Harvey Weinstein of sexual harassment and misconduct. According to Hayek, the bulk of the misconduct occurred during the filming of the Academy Award-winning biopic Frida.
Hayek alleged that Weinstein attempted to pressure her into sexual acts and made her work harder than necessary to ensure the film about the artist Frida Kahlo was ever made.
"When he was finally convinced that I was not going to earn the movie the way he had expected, he told me he had offered my role and my script with my years of research to another actress," Hayek wrote. "In his eyes, I was not an artist. I wasn't even a person. I was a thing: not a nobody, but a body."
Hayek now joins the lengthy list of women accusing Weinstein of sexual misconduct including actresses Ashley Judd, Lupita Nyong'o, Gwyneth Paltrow, Angelina Jolie and Rose McGowan.
Here's how to stay away from problematic entertainment
With all of the producers, actors and television chefs being accused of sexual misconduct on what seems to be a daily basis, it can be hard to determine what is safe to watch and support. Thankfully, the site Rotten Apples is here to help.
The site allows users to search for a film or television show to check if someone accused of sexual misconduct was involved in its creation.
"The goal of this site is to further drive awareness of just how pervasive sexual misconduct in film and television is and to help make ethical media consumption easier," Rotten Apples' site explained. "By no means is this site meant to serve as a condemnation of an entire project."
According to the site, which was made by Tal Wagman, Annie Johnston, Justice Erolin and Bekah Nutt, it currently only tracks high-profile positions in entertainment including actors, screenwriters, executive producers and directors.