What will it take for the porn industry to have its #MeToo moment?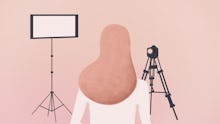 It was 2010, and then-23-year-old Eva Lovia was on set in Miami for one of her first professional adult-film shoots, an all-girl scene. Before cameras even rolled, Lovia said, the male director/producer groused to his cast about how "it's kind of expected if I make a move on you and you're nice to me, then obviously I'm going to give you more work, and if you go around and tell everyone, it's my word against yours, and then I'm just never going to shoot you again." In a recent phone interview, she declined to name the director for fear of retributive litigation.
During the subsequent shoot, she said, he rubbed his clothed groin against her body without permission and, at one point, began choking her on-camera as two female co-stars performed oral sex on her. "I just remember thinking, 'Oh my god, I can't believe this is happening,'" she said.
Lovia, who is still active in the business and said she has since become better prepared to handle on- and off-set power dynamics, isn't the only adult entertainer speaking out about abuse. Nikki Benz, a veteran of over 10 years, tweeted allegations in December 2016 regarding a shoot for high-profile production house Brazzers. She tweeted that "the director himself put his hands on me and was choking me," and tweeted an apparent screenshot of a text message indicating she said she had called "cut." (Brazzers fired and disavowed director Tony T, who filed a currently pending defamation lawsuit against both the company and Benz. When reached for comment, Benz said that due to the lawsuit she "cannot comment too much.")
And just over one year before that, popular adult actress Stoya accused former boyfriend and frequent co-star James Deen — who became something of a known pop-culture entity after appearing with Lindsay Lohan in Paul Schrader and Bret Easton Ellis' mainstream genre piece The Canyons — of rape.
"There is literally a line of thinking out there that goes, 'Porn stars can't be raped. They brought this on themselves.'" — Cindy Gallop, co-founder and CEO of MakeLoveNotPorn.tv
Yet, despite their (and others') ongoing outspokenness on social media and elsewhere, none of these women were featured on Time's 2017 Person of the Year cover, which gathered Ashley Judd, Taylor Swift and other prominent faces from within and outside Hollywood who have come forward with stories of harassment or assault by influential men. Nor have these women or their peers been actively courted by the #MeToo movement, which has acted as a kind of virtual welcoming tent for countless famous and everyday victims (of all genders) of sexual misconduct. Even in this incredible moment of vocal support for those muted by violence and intimidation, long-held stigmas surrounding porn have cast its participants aside.
"It's a very unfortunate fact that appalling bias and prejudice by society as a whole toward the porn industry means there is literally a line of thinking out there that goes, 'Porn stars can't be raped. They brought this on themselves,'" lamented Cindy Gallop, co-founder and CEO of crowd-sourced, sex-positive web channel MakeLoveNotPorn.tv. "It's a very difficult area for the women and men [in porn] to bring this up in the first place. They have all the same traumas as any sufferer of sexual assault, but then have this double-standard overlay of, 'Nobody's going to believe me if I work in porn, because this is what I signed up for.'"
The "this is what they signed up for" mentality feels particularly dismissive given the popularity of porn (as we know, viewers of porn number in the millions and cross gender lines) and it also glosses over the needs of a vulnerable community. At minimum, it's prudish, but at worst, it could be argued as inhumane.
"Just because you're a sex worker does not mean you're a sex object," Bree Mills, head of adult movie studio Gamma Films and director for lesbian-erotica web portal Girlsway, said. "It stems from ignorance about who sex workers are. [There is a] marginalization that happens in assuming these actors and actresses are nothing but troubled trailer park trash. People forget these are actually people, and that makes it easy to dismiss behavior."
The Ron Jeremy exception
Ron Jeremy is arguably the most famous male actor in porn history and, thanks to a mainstream media presence over the past couple of decades, a true household name. Yet when Rolling Stone published an in-depth account of accusations against him in November, including alleged unwanted groping and rape, Jeremy's name barely rose above the din of that day's news. It was as if a nation shrugged and said, "That's just Ron."
(In an emailed statement to Rolling Stone, Jeremy categorically denied any claims or rape, insisting any such allegations had been investigated and dismissed. Regarding groping, he commented to RS that "if you were going to be around Ron Jeremy, wouldn't you assume that I'd be a little bit touchy Feely? Yes. This is what I do for a living. I am not Kevin Spacey, Louis CK, Weinstein or Cosby.")
The article's author, EJ Dickson [Editor's note: Dickson was formerly a sex and dating editor for Mic], who spent months compiling the story, wasn't shocked her Jeremy expose failed to make waves. "To be honest, I was expecting it," Dickson said. "While I was reporting it, I would get that response, like, 'Oh, who's surprised?'" she said, regarding the allegations. "Well, I'm surprised. I know a lot of people in the industry, and I would never dream that they would do any of the things he's accused of doing."
That might sound impressionable to some, but the irony, as Dickson observed, is that porn shoots do have built-in protections to prevent abuse from occurring. In many ways, because of the inherent potential for blurred boundaries, the standard for professionalism on a shoestring XXX set is closer to what you might anticipate for a big-budget blockbuster.
"My experience as a journalist is not the same as the experience of people in the mainstream who aren't familiar with the [porn] industry and how much it puts a premium on consent," Dickson said. "My ideal hope for the outcome of the story is bringing to light that the allegations against Ron are exceptional in this industry. This is something all of the women I spoke with also stressed. It doesn't come with the territory."
"If somebody is claiming sexual harassment, it is sexual harassment, regardless of what industry you find yourself in." — Brittni De La Mora, founder of Always Loved
Gallop of MakeLoveNotPorn.tv, who said she makes it part of her business to monitor both feminist uprisings like #MeToo and the adult industry as a whole, wasn't even aware the Rolling Stone story had been online for weeks. That, she suggested, is evidence enough that some alleged perpetrators are being held accountable more steadfastly than others, and some alleged victims are getting drowned out.
"The fact that [the Ron Jeremy piece] did not come across my radar also indicates that it did not stir up the same groundswell of feeling other stories about other men have," Gallop said.
Brittni De La Mora, who performed throughout the 2000s and early 2010s under the stage name Jenna Presley, now ministers at the Cornerstone Church of San Diego and runs an initiative called Always Loved that assists women who want to leave sex work. She too was unaware of the allegations against Jeremy — not that she's surprised the story didn't result in swift and universal condemnation for its subject.
"I've been on the other end where people are like, 'You choose to show yourself as a sex object,'" De La Mora said. "And that's where that gray area is. But if somebody is claiming sexual harassment, it is sexual harassment, regardless of what industry you find yourself in."
Lovia, who experienced on-set assault in Miami in 2010, recalled meeting Jeremy once and said over email that "he immediately just pinched my nipple." (Mic reached out to Jeremy through his management, but did not receive a reply prior to publication.) This all raises the question: If there's no substantial outcry in response to heinous and widespread allegations against porn's most successful male crossover star, what or who could possibly break the cycle of ambivalence?
Self-policing porn
Ask male former adult star Brenn Wyson the above question, and his answer is cut-and-dry: "A true union. You need a stand."
Wyson, who has been exceptionally outspoken about this issue affecting both men and women (most of the women Mic spoke with weren't aware of how comparable a concern it is among their male counterparts), said he agrees that any mainstream conversation about workplace abuse that omits the adult world is incomplete. But he also parts with Dickson and the majority of XXX professionals we spoke with in his view that porn is polluted by abusers and opportunists, and that any reform starts there.
"Women get raped all the time," he said, regarding the adult industry. "Even men. Submissive men will get raped all the time. The things they can coerce them into doing, it's kind of crazy, and I feel bad for a lot of stars."
As Lovia reflected on her alleged assault and the fact that "even an industry vet [like Ron Jeremy] can't separate the role we play from the human beings we are," her sentiments started to echo Wyson's. "At some point, people have to stand up and say, 'That's not what we signed up for,'" Lovia said. "'We signed up to perform sex as entertainment and to only agree to what we consent to.' I don't know what it's going to take for that shift to happen."
"Submissive men will get raped all the time. The things they can coerce them into doing, it's kind of crazy, and I feel bad for a lot of stars." — Brenn Wyson, male former adult star
It's not quite the formalized front Wyson would like to see, but for now, the solution may not be so different than what we've seen emerge with #MeToo: a dual push of social media advocacy and the industry doing a better job of policing itself.
"In correlation with the mainstream attention to the subject, there are several adult companies who are stepping forward with variations on #MeToo," Girlsway director Mills said. ManyVids, which launched in 2014 and boasts both streaming porn and provocative editorial content, just unveiled its #WeAreMany campaign, with a stated goal of "ending violence against sex workers." In addition, highly trafficked "tube" sites like XHamster have blocked videos depicting acts of rape or abuse, and stars like Benz have begun using their sizable Twitter and Instagram followings not only to promote appearances and merchandise but also to call attention to sexual assault.
The hope is, if mainstream media and culture aren't shining a harsh light on sex work's worst abusers, that porn fans will be receptive to direct appeals. Because when there's no available, wider platform for representation, keeping quiet is simply fatalistic.
"Whenever you speak out against something, there is always going to be opposers who disagree with you, and maybe they might blacklist you from their set," De La Mora said. But, she added, "What you don't confront does not change. If you don't speak out and you allow the industry to silence your voice, then you're going to lose your voice and not be able to change things that need to be changed."
Or as Mills put it, "At least we can clean up our own house — that's a good starting point."
Waiting for a seat at the table
No one among the nearly 10 sources we spoke to within the adult industry was outright critical of #MeToo. If anything, there was a sense of seasoned resignation about being on the outside looking in. A la Black Lives Matter, #MeToo is developing a formal apparatus while growing from its grass roots. Hopefully, soon, there will be a seat at the table for adult performers because the parallels between their narratives and those coming out of Hollywood — abuses of power, manipulation of young talent, fears of being blacklisted, etc. — are potent. The main distinction is that adult entertainers lack any kind of comparable support system.
"Mainstream entertainers have a lot of safeguards, such as an agent or manager that has their client's best interest at heart," Lovia said. "In adult, the agents have to make the companies money, so their true loyalty does not lie with their talent." She also noted that "most mainstream actors make significantly more money, thus having better legal representation, [and] have a bigger audience, so their reach to speak out is much more substantial."
"What you don't confront does not change." — Brittni De La Mora
But #MeToo or any similar movement would arguably be stronger with the input of allies from all experiences and backgrounds. Whether it's a Time magazine cover or celebrity tweets of solidarity, failing to lift up everyone equally can only qualify as a missed opportunity.
"Feminism has a very complicated relationship to sex work," Dickson said. "There's definitely a hesitance to welcome sex workers into this larger conversation, and it's really an issue, but it's not specific to #MeToo. It's been going on for a while."
Today's most visible porn performers appear poised, however, to put an end to those distinctions. Before this story was filed, Nikki Benz — who was unable to comment in-depth due to the pending litigation against her — emailed to share a simple message that speaks volumes: "My fight to bring awareness has been going on for the past year. It's not over, and I'm not going to go away in silence."
Dec. 20, 2017, 6:33 p.m.: This story has been updated.
Correction: Dec. 20, 2017