Mario Batali apologizes for alleged sexual misconduct, then links to a cinnamon rolls recipe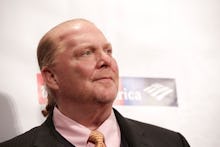 On Monday, Eater New York published an in-depth report with allegations from four women that celebrity chef Mario Batali inappropriately touched them and harassed them over the course of two decades.
Following the report, Batali sent out a statement to the media. "I apologize to the people I have mistreated and hurt. Although the identities of most of the individuals mentioned in these stories have not been revealed to me, much of the behavior described does, in fact, match up with ways I have acted," he said in his statement. "I take full responsibility and am deeply sorry for any pain, humiliation or discomfort I have caused to my peers, employees, customers, friends and family."
By Friday, Batali had officially been fired from the ABC show The Chew and had stepped away from his other businesses. On Friday evening, Batali — or someone on his team — sent out an additional apology in the chef's newsletter.
"As many of you know, this week there has been some news coverage of my past behavior," the newsletter said. "I made many mistakes and I am so very sorry that I have disappointed my friends, my family, my fans and my team. My behavior was wrong and there are no excuses."
Batali then noted that sharing Italian food with his followers has been both an honor and a privilege. The newsletter then included a link to a recipe for cinnamon rolls.
"P.S. In case you're searching for a holiday-inspired breakfast, these Pizza Dough Cinnamon Rolls are a fan favorite," the letter concluded.
Social media users were quick to jump online to point out the sheer lunacy of sharing a pizza dough recipe in the same breath as apologizing for alleged sexual misconduct.
Mic has reached out to Batali's camp for comment, and has not received a response as of publication time.
Batali isn't the only chef with allegations of sexual misconduct against him. Eight women have come forward and shared their allegations of sexual harassment and abuse about celebrity pastry chef Johnny Iuzzini with Mic. As a result, ABC said in a statement that it has severed ties with Iuzzini and will no longer be airing the rest of the second season of The Great American Baking Show.