On sale after Christmas: These are the 5 best deals in December if you're shopping before New Year's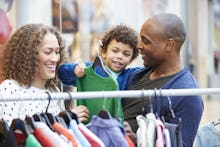 If you are one of those savvy savers who squirreled away extra cash to go shopping after Christmas, you're in luck. Right now is a great time to snag some of the best deals of the year — on specific items, anyway.
It helps if those purchases are off-season or coincide with an annual turnover of inventory: Wedding dresses and golf clubs can be had for a song, for example, as long as you don't mind buying last year's model. Contrary to what you'd expect, high demand can actually kick up competition between retailers, which is why reports have suggested champagne is cheapest in December. And even more top sales can be unearthed if you know where to look.
"Some discounts are so strong, they are comparable to Black Friday deals," Lindsay Sakraida, DealNews director of content marketing, said in a phone interview. "It's likely you can find offers that are as much as 80% off, plus when you apply a coupon you will see sales that match Black Friday or Cyber Monday."
Now, not all items are going to be a steal, Sakraida cautioned: "For instance, its better to wait until after the consumer electronics show takes place in January for some of the larger electronics like TVs. That's when the previous models go on sale afterward."
Whether in person or online, shoppers trying to stick to a tight budget should try to stay focused — and be aware that most retailers tout a big sale just to get you in the door, only to upsell you additional items. "Last year one retailer put coats on sale for like $10," Sakraida said. "The coat was so cheap they couldn't pass it up. But then shoppers would add more things to their cart or just buy more to meet the minimum for free shipping."
So shop with a strategy. "My advice is to hit the stores first, because online free shipping offers usually expire by Christmas," Ana Serafin Smith, senior director of media relations for the National Retail Federation said in a phone interview. Don't forget to use coupon apps or sites like Coupons.com and check pricing before you shop at Camelcamelcamel.com.
With these tips in mind, here are five major categories of discounted items you can score first thing after Christmas — plus a few items to wait on until January.
1. Christmas decorations
Remember that last-minute panic you felt buying gift wrap and Christmas lights? Assuming this year was stressful (and that you have a little storage space), do a favor to 2018 you and get ahead of next holiday season while it's cheap to do so.
It's no secret that holiday decor, cards and accessories will be priced to sell the day after Christmas. "The day after Christmas is when you'll find some deep discounts on items like wrapping paper which could be as much as 90% off," Smith said. "The biggest discounts will be on decorations, ornaments, lights and tableware settings. Fake trees will be on sale and you can possibly find some deals where you get as much as 50% off."
Walgreens is offering 50% off remaining light sets and projectors, as well as 50% off Christmas wrapping paper, tree trimmings and décor, and Christmas motif plush items. At Target, you can purchase a 7.5-foot artificial tree for less than $65, regularly about $130, or pick up a Philips Christmas LED Multicolored Snowflake projector for about $12.50, which usually sells for about $25. And CVS and other similar stores will have dozens of holiday items on sale.
2. Clothing
Some of the deepest clothing discounts will most likely be found on late fall or early winter clothing and accessories, Sakraida said. Still, while lighter coats may be on sale, "winter coats or heavy winter apparel may not be as deeply discounted at this point," she said.
It's hard to find stores that don't have solid sales right now. At Banana Republic, for example, you can take up to 40% off regular priced items on Dec. 26. At Old Navy, shoppers can take up to 74% off dresses, shorts, swimsuits and T-shirts. Athleta is also offering discounts of up to 73% off athletic wear, shorts and dress apparel. At the Macy's "after Christmas" sale, you take an extra 20% off or get $10 off a purchase of $25 or more.
Other stores to check out include Eric Dress, where you can get up to 85% off from Dec. 26 through Dec. 29, or Ugg, which is having a post-holiday sale. There's another at Zaful's on Dec. 26, with deep deals — plus a free gift. If you head to the BCBG and get 40% off select styles online and in select stores through Jan. 2, 2018. Shoppers can also get up to 70% off at Target when you take an extra 20% off clearance clothing, shoes and accessories.
3. Specific electronics and software
Electronics deal hunters should be on the lookout for discounts. Though editors' choice sales were not as massive in 2016, according to DealNews, you might be able to save money on certain items: You should price check cameras, entertainment services, video games and select refurbished phones.
There are discounted goodies you can snag through Amazon's Second Annual Digital Day on Fri. Dec. 29. These include 60% off Wonder Woman on Amazon Video, 50% off all in-game items for Marvel Puzzle Quest, 25% or more off PC software like Rosetta Stone and Adobe Creative Cloud Photography and other deals. You can also hit Best Buy and save about $20 on a Google Home Mini or Amazon Echo. For those in the market for a phone, you might check out the Samsung Galaxy Note8, S8 or S8+ to save 50% or you can save up to $150 on the iPhone 7 and iPhone 7 Plus.
Microsoft is extending current holiday offers, many through the first week of 2018. For instance, you can save up to $80 on select Xbox One S 500GB bundles, starting at $199, plus a free select game through Jan. 6 — or you can save up to $500 on select PCs, starting at $329 through Jan. 2, 2018.
In the market for a new camera? You might check out deals at Target, like a GoPro HERO5 Black, usually $400, on sale for $300 — or a Nikon D3400 D-SLR, typically selling for nearly $900, now only $500. Gamers shouldn't miss the Steam Winter Sale, which runs through Jan. 4, 2018. Some specials include 75% off Dark Souls III or 74% off the Trineverse bundle.
4. Toys and books
Toy retailers typically increase stock in the months leading up to December and thus will discount items post-Christmas to purge the additional inventory, according to Sakraida. So if your child has a gift card to spend or you need to make a return, it might be worth your while to hit the toy department during the week between Christmas and New Year's.
For instance, Toys R Us is offering up to 70% off on more than 1,000 clearance items in-store and online from Tues. Dec. 26 through Sun. Dec. 31. Shoppers can get an extra 20% off clearance in-store with an email coupon — or an extra 20% off select clearance online using promo code CLEARANCE20. Another hot spot for toys is Walmart, where you can save about $40 on a Barbie DreamHouse Playset or a Nikko Air Racing Drones Race Vision 220 FPV Pro with Headset. And you can also save 20% on some games at Target.
For the reader in your life, you can "buy two get one free" on DC & Marvel graphic novels through Jan. 15, or do the same on paperback books through Jan. 8 at Barnes and Noble.
5. New cars
If you are in the market for a new car, pull the trigger between Christmas and New Year's, according to U.S. News and World Report. Why? Dealers are trying to meet end of the year sales quotas.
"While the best month to buy a car depends a lot on market conditions — how sales are doing, where interest rates are — December, particularly the week between Christmas and New Year's — typically has the lowest transaction prices, as dealerships look to end the year on a strong note, and most people aren't shopping then," Jamie Page Deaton, managing editor of U.S. News Best Cars said to U.S. News. "When you add year-end deals to your already strong negotiating position, you end up having a great chance at saving a lot on a new car." 
Specific deals include Buick's 25% end-of-the-year discount on select models and Chevrolet's "employee discount for everyone" deal, where you can take as much as $12,000 off a 2017 Corvette Z06. Other sales to explore include Volvo's "holiday sales event" and the VW "sign then drive" lease event where you put $0 down and pay $0 for your first month's payment.
While showing up to buy your car between Christmas and New Year's is a pro move, you can possibly further your deal if you arrive toward the end of the day and shop models from the previous year, Auto Trader reported.
Finally — consider buying a used car, which is likely to save you far more money than that "new car" smell is worth.
Get ready for January sales
Both Smith and Sakraida said consumers can find good deals on exercise equipment like stationary bikes — as well as fitness gear — post-Christmas. "The deals are not as deep as what you might find on winter apparel but you can still find pretty good prices," Smith said. "Check out items like fitness trackers and athletic shoes."
Even better? Wait until January, when DealNews reported you could see double the number of sales.
If you do want to shop right now, you have a few options. For outdoor and exercise equipment and apparel, there's Dicks Sporting Goods, where you can get up to 50% off during their end-of-season sale. You can take up to 50% off at Foot Locker's end of the year clearance sale or save up to 50% online only at Champs Sports. Other "don't miss" sales include Amazon's, where you can get in on some sweet deals on ski and snowboard goggles or get 52% off Cymas Fitness Tubes Set Resistance Bands. And another place to check for deals is Target, where you can take $20 off the P90X Recovery Kit or save about $26 on Triletics CardioBands Double Pack.
Finally, if you have patience, wait until January to get the very best deals on other items, including Broadway show tickets and high-end electronics from 2017 — which, again, tend to go on sale as soon as newer models are released at the Consumer Electronics Show, according to DealNews.
Bummed that item you need isn't on sale right now? Check out our handy guide to pinpoint the best month to buy just about everything.
Sign up for the Payoff — your weekly crash course on how to live your best financial life.