'Princess Cyd' is a queer coming-of-age film designed to "confuse straight girls," director says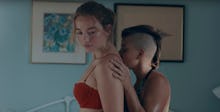 Writer-director Stephen Cone had a particular goal in mind when making his latest film, Princess Cyd. "One of the things I said early on was that I wanted to make a movie that confused straight girls," Cone told me back in the spring, when Princess Cyd debuted at the Maryland Film Festival.
Whether he achieved that particular goal is up in the air, but Cone certainly succeeded in crafting a gorgeous coming-of-age queer story that doesn't give into the melodrama often associated with the genre. Princess Cyd — which opened in theaters in November and just recently made its way to on-demand services — centers on a 16-year-old named Cyd (played by Jessie Pinnick).
Cyd is spending the summer with her aunt Miranda (Rebecca Spence), a well-known novelist, in Chicago, away from her depressing South Carolina home life with her troubled father. While in this new environment, Cyd meets a local barista, Katie (Malic White), and once the two strike up some small talk, we're treated to one of 2017's lovelier onscreen romances.
Of course, this being a story of queer romantic discovery set in the summer, comparisons to Call Me By Your Name seem inevitable, so let's get this out of the way now: While Princess Cyd works on a much smaller scale than CMBYN, it's an easygoing yet emotionally charged story that's just as worth seeking out.
And in a year filled with no shortage of real-life horrors, a low-key, humanistic film is a welcome respite. The chemistry between Cyd and Katie can be felt from their first meeting at the coffee shop, and the androgynous, mohawked Katie projects a confidence that innately appeals to Cyd. "Cyd's a basically heteronormative person traveling to a place that's giving her permission to explore," Cone said on the festival circuit. "She finds a handsome girl. Katie is her prince."
In one moment, spotted by a film crew in the background of a shot, they are asked to dance together and pretend to be in love. They happily oblige. It's the type of scene that could be corny or forced, but it quickly demonstrates how obvious their spark is to those around them. And that includes Cyd's aunt Miranda, who's refreshingly non-judgmental about her niece's new relationship.
Cyd tells Miranda she's considering having sex with Katie, and Miranda doesn't react with alarm or discomfort, as many family members (even self-proclaimed liberal ones) might. Miranda smiles, and when Katie asks, slightly self-consciously, "Is that weird?" her aunt responds, reassuringly, "Not at all."
The whole film is a pleasure to take in and has a dreamy, sun-dappled aesthetic, best represented in a scene where Miranda and Cyd sunbathe in Miranda's verdant backyard. But the picturesque moments don't keep the script from having a nuanced handle on its characters' emotional lives. Both Cyd and Katie have experienced trauma, but they don't let it define them; Cyd is presented as a character whose sexual confusion (we also see her hook up with a boy) doesn't cause torment. In one memorable scene, Cyd swipes a tuxedo from Katie's brother's closet and wears it to a refined party at Miranda's. It's an endearing example of her brash confidence in presenting a new side of her sexual self.
That same sort of confidence can be felt in Cone's treatment of the material. The 37-year-old auteur has been steadily making films — including 2011's The Wise Kids and 2015's Henry Gamble's Birthday Party, both stories of young people growing up with religious backgrounds — for more than 10 years, and Princess Cyd is his eighth feature-length film. "The movies I made before this were all about repressed evangelicals, so it was nice to give myself permission to tell a story about forward-thinking progressive people," Cone said in May.
Cone elaborated over the phone recently that while his body of work isn't "overtly political," he tries "to illuminate really elemental things … communication, openness, respect, trust, individuality and joy." As such, his characters feel like fully formed people, with desires and fears and pasts that they're struggling with — and, ideally, they're people whom viewers will empathize with and see themselves in.
"We had a couple of families waiting in line with queer 14-year-old daughters," Cone said when we first spoke. "I know there's a sex scene in it, but I tried to make my version of a mother-daughter film." A mother-daughter film featuring an understated queer romance that was initially supposed to confuse straight girls might sound muddled, but Cone has made it into a beautiful reality.