Mic Wakeup: GOP poised to pass sweeping tax bill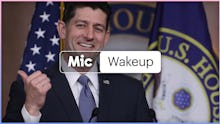 It's Wednesday, Dec. 20. Here's what to know about the Republican tax bill, since the Senate voted 51-48 early Wednesday morning to pass the sweeping legislation that is now on its way to becoming President Donald Trump's first legislative win.
House Republicans passed a tax bill, then revoked it
On Tuesday, Republicans celebrated the passage of their much-maligned tax bill. But it appears that celebration was severely premature, as it turns out that the bill goes against several Senate rules. Now, they have to vote on it all over again.
As Mic previously reported, three provisions in the tax bill were found to violate the Byrd Rule, thus triggering the need for another vote. The provisions were:
• A provision allowing citizens to use 529 college savings plans on homeschool expenses.
• A provision exempting colleges from paying taxes on their endowment, so long as the college has fewer than 500 tuition-paying students.
• The bill's title, "The Tax Cuts and Jobs Act."
The next vote is expected to happen on Wednesday.
Democrats are vowing revenge over the tax bill
Immediately following the tax vote, Democrats vowed to rally against it.
In a statement about the bill, House Minority Leader Nancy Pelosi (D-Calif.) called it a "monumental, brazen theft from the middle class."
And for people like Rep. Beto O'Rourke (D-Texas), who has already launched a bid against Sen. Ted Cruz (R-Texas) in 2018, the bill is almost welcome help for his campaign.
"I love that this is on the ballot in 2018," O'Rourke told Mic, "because Texans vote their interests and they know what's going on.
And even some Republicans are aware that the passage of this very unpopular bill will make it harder for them to win in 2018.
"It's going to make it a lot tougher in the Northeast," Rep. Peter King (R-N.Y.), who was one of 11 Republicans to vote "no" on the bill, told Mic. "Hopefully we don't lose any seats, but it's going to be tough."
With this bill, it's clear that Republicans haven't learned from Democrats' mistakes
On Monday, House Speaker Paul Ryan told reporters he has "No concerns whatsoever," over the tax bill's wildly poor polling numbers. Why? He and other Republicans are convinced that once American citizens see its benefits they will approve of the bill.
"When we get this done, when people see the withholding improving, when they see the jobs occurring, when they see bigger paychecks, a fairer tax system, a simpler tax code, that's what's going to produce the results," Ryan said. "Results are going to make this popular."
But that's the exact opposite of what happened to the Democrats with the passage of the Affordable Care Act in 2010.
Then, the ACA was just as unpopular with the public and had a 59% disapproval rating. And it ended up costing the Democrats deeply as they lost their House majority just months later, then the Senate majority in 2014.
"It must be the inherent nature of politicians to believe what they want to believe, and to ignore earlier comparable situations that they should have, could have, might have learned from," Stu Rothenberg, a non-partisan political analyst, told Mic of the Republicans who voted for the bill. Only time will tell if it will affect the Republican party in the same way the ACA affected the Democrats.