In Mexicali, Mexican and Chinese food meet in a distinct, delicious way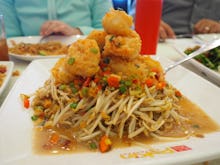 "It means 'welcome' in Chinese," a man said to me in Spanish, looking up at me from a grey velvet loveseat. He pointed to the wooden sign I was looking at, with large, gold Chinese characters set against a red background.
I was in Mexicali, a city of 900,000 and the capital of the Mexican state of Baja California. It's two hours east of Tijuana, the more populous part of the state. It isn't near much of anything, save for a fleet of high-producing maquiladoras (manufacturing plants), a slew of commercial farms and the United States-Mexico border, which runs along the northern terminus of the city with Calexico on the other side.
It's also the home of Mexico's largest Chinese community, earning Mexicali the nickname "Little Canton" in China. As a result, the area is known for its Mexican-influenced Chinese cuisine, which has put Mexicali on the culinary map. Ask anyone who lives in or grew up in Mexicali what they do on Sundays, regardless of ethnic background, and the answer is likely that they and their families head to a Chinese restaurant, Javier Gutiérrez, a Mexicali native and the project coordinator for Baja California's Secretary of Tourism, said in an interview.
Chinese immigrants, mostly from present-day Guangzhou, first arrived in Mexicali around 1900, contracted by the Mexican government to build the railroad on both sides of the border, according to Víctor Martínez, a researcher who studies Mexicali history. Governments in the Americas prioritized immigrant labor because they made for a more easily exploitable workforce.
During the 1920s and 1930s, there were more Chinese people than Mexicans in Mexicali, almost all of them men between the ages of 15 and 30.
Around the same time, in the early 1900s, the Colorado River Land Company began developing the fertile land around the nearby Colorado River for agricultural use. Mexican labor was deemed too expensive, so they exploited the labor of Chinese immigrants to build the irrigation system and canal. The Colorado River Land Company then hired the workers as farmhands, with some Chinese men becoming landholders themselves. Anti-Chinese sentiment in the United States (1882's Chinese Exclusion Act was made permanent in 1902 with the adoption of the Geary Act) and elsewhere in Mexico cemented Mexicali as a somewhat of a haven for the Chinese, despite periods of relative persecution and harassment.
During the 1920s and 1930s, there were more Chinese people than Mexicans in Mexicali, almost all of them men between the ages of 15 and 30. Today, there are around 5,000 people of Chinese descent living in Mexicali.
Initially, Chinese life in Mexicali was centered in its oldest neighborhood, called La Chinesca, where a bevy of Chinese cultural associations, historic buildings, restaurants, temples and more are still operating today. It's where I happened upon the Chinese welcome sign, in the Hotel Chinesca. The architecture in La Chinesca had been built to model buildings in the United States, whose construction often included basements, Gutiérrez said.
"We are so cut off from the rest of Mexico here that our truest influence comes from the United States," he told me. "Basements were an American thing that we copied."
Needing a shelter from Mexicali's harsh desert climate and an inexpensive place to set up shop, the Chinese community moved underground during the 1920s and '30s to open cantinas, stores, meeting halls and more. Two or three basements at a time were connected by a short network of tunnels, turning La Chinesca into a thriving neighborhood both above and below ground. During Prohibition, Al Capone and other mob members got in on the action, opening bars like El Tecolote. There were also many casinos, which ran tunnels directly into the United States.
Over time, the businesses moved back above ground. Today, Mexicali has less of a reputation for its vice-laden history and is now known for its particular brand of Chinese cuisine. Gutiérrez estimates that there are around 300 Chinese restaurants in the city.
We went to one of Guitérrez's favorites — Pekin Restaurant — to try a selection of dishes. The restaurant is enormous, with multiple rows of long tables fit for family gatherings. The menu spans numerous pages, with recipes that bear a faint resemblance to Cantonese-style Americanized Chinese food, like a variety of fried rices with shrimp, pork, chicken and beef.
Many plates channeled Mexico as much as China. This is a result of both necessity, owing to the lack of traditional Cantonese ingredients available, and preference, paying tribute to Mexico. Gutiérrez said that a lot of dishes are fried, "because Mexicans love fried food." Others reflect the bounty of Mexicali's many surrounding farms, which produce large amounts of broccoli, asparagus, carrots, green onions, peppers and tomatoes. Most are heavily salted and include monosodium glutamate, or MSG.
Meat is prominent in several dishes, a departure from Chinese cooking where proteins are typically one of many components in the dish. Gutiérrez explained that part of the reason is because Mexicali is one of the largest beef producers in Mexico. One delicious example is arrachera con esparragos, or skirt steak with asparagus, served with white rice. Arrachera is a common taco meat — it grills well while retaining fat and flavor. But in this case, it is fried after being breaded with crushed saltines. Thin, sauteed asparagus is mixed in with scallions, red bell pepper and chile de árbol, a chili pepper native to Mexico.
Camarón enchilado is popular throughout Chinese restaurants in Baja California. The shrimp is fried in breadcrumbs and flour and doused in a sauce with sugar, salt, chile de árbol, cornstarch and MSG, atop a pile of stir-fried bean sprouts, scallions and red and green bell peppers. White rice serves as a stand-in for corn tortillas, which are part of the traditional preparation. Mexicali is squarely in flour tortilla territory, but there are no tortillas to be found at Pekin.
The Peking duck comes fried with a side of hoisin sauce and fluffy bao buns. Pechuga Mongol, or chicken breast in "Mongol sauce," is sliced and sauteed with red and green bell peppers, onions, chile de árbol and oyster sauce with more chile. Fried chun cun are a cross between spring rolls and egg rolls, stuffed with cabbage and dotted with bits of ground pork.
Luis Manuel Chong Sam, a historian of Mexicali's Chinese community and a lifelong resident, said in an interview that there are other examples of how well Mexican and Chinese culture came together. In particular, the Chinese community celebrates the Qingming Festival, which takes place during the first week of April. Bearing a lot of similarity to Mexico's Dia de Muertos celebration, during Qingming people tend to the tombs of their relatives, build altars, tell stories and eat foods that their departed loved ones enjoyed. There are some standard celebration foods served, too, Chong Sam said. These include pork tatemado, which is a Mexican dish of vinegar marinated pork stewed for several hours.
Over the years, I had heard much about Chinese culture in Mexicali. That the Chinese food wasn't anything to shout about, or that there was a sizeable subterranean neighborhood under the city's downtown where the Chinese community operated secret lives apart from the rest of society. The truth is far more interesting: the food is good, and the various customs of both nations have complemented each other well — the recipes are fluid and malleable, with many Mexican ingredients and Chinese techniques. The tunnels and basements are far less mysterious or illicit than rumored to be. They remain in Mexicali as a tribute to the resourcefulness and ingenuity of immigrant communities around the world.
Dec. 25, 2017 1:25 p.m.: This story has been updated.
Correction: Dec. 25, 2017