Mic Wakeup: 3 sexual harassment stories that flew under the radar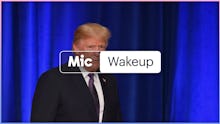 It's Thursday, Dec. 21. Here are three stories you need to read.
The majority of American women think Donald Trump needs to resign
According to a new Quinnipiac University poll, Americans think it's time for President Donald Trump to step down. It's not over his politics, but rather over the fact that he has been accused by multiple women of sexual assault.
As the poll found, 50% of all Americans believe Trump should resign over the allegations. The poll broke it down further by gender, with 41% of men saying Trump should resign and 59% of women saying it's time for him to go.
Of course, the American public isn't alone in calling for Trump to step down. Lawmakers, including Sen. Kirsten Gillibrand (D-N.Y.), have called for his resignation. As Gillibrand told CNN, his accuser's stories were "very credible allegations of misconduct and criminal activity, and [Trump] should be fully investigated and he should resign."
Despite harassment claims, Glenn Thrush will return to the New York Times
Glenn Thrush, who became a star political reporter over the last year, was suspended from the New York Times in November over multiple harassment claims by his female coworkers. But, rather than being fired, Executive editor Dean Baquet announced on Wednesday that Thrush would return to the paper in January.
The only change, according to Baquet, is that Thrush will no longer cover politics. It is unclear where his new assignment will be.
"While we believe that Glenn has acted offensively, we have decided that he does not deserve to be fired," Baquet said in a statement. "Instead, we have suspended him for two months and removed him from the White House beat. He will receive training designed to improve his workplace conduct. In addition, Glenn is undergoing counseling and substance abuse rehabilitation on his own. We will reinstate him as a reporter on a new beat upon his return."
According to Vox reporter Laura McGann, she and four other women alleged they each endured "a range of similar experiences" with Thrush. Those experiences ranged from "unwanted groping and kissing to wet kisses out of nowhere to hazy sexual encounters that played out under the influence of alcohol."
The porn industry is in desperate need of a #MeToo movement
When Ashley Judd, Taylor Swift, Tarana Burke, and other prominent women in the #MeToo movement graced the cover of TIME as its "person of the year" there was one face missing: The women in the porn industry.
In 2016, before the #MeToo movement caught its second wave, women in the adult film industry were loudly declaring that they had had enough with the rampant sexism and assault in their industry.
"It's a very unfortunate fact that appalling bias and prejudice by society as a whole toward the porn industry means there is literally a line of thinking out there that goes, 'Porn stars can't be raped. They brought this on themselves,'" Cindy Gallop, co-founder and CEO of crowd-sourced, sex-positive web channel MakeLoveNotPorn.tv, said. "It's a very difficult area for the women and men [in porn] to bring this up in the first place. They have all the same traumas as any sufferer of sexual assault, but then have this double-standard overlay of, 'Nobody's going to believe me if I work in porn, because this is what I signed up for.'"
And as Bree Mills, head of adult movie studio Gamma Films and director for lesbian-erotica web portal Girlsway, said, "Just because you're a sex worker does not mean you're a sex object." She added, "It stems from ignorance about who sex workers are. [There is a] marginalization that happens in assuming these actors and actresses are nothing but troubled trailer park trash. People forget these are actually people, and that makes it easy to dismiss behavior."
Read the thoughts of women in the industry and more about what can be done to protect them here.