Republican Sen. Tim Scott criticized as a "prop" at Trump's tax bill press conference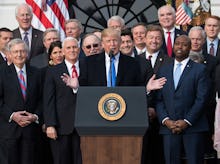 It's easy to understand why Sen. Tim Scott (R-S.C.) would object to a reporter characterizing him as President Donald Trump's political prop.
On Wednesday, Scott stood front and center — in live shot view — behind Trump amid a sea of white GOP faces as they congratulated each other for passing their tax reform bill.
Huffington Post contributor Andy Ostroy posted a since-deleted tweet feigning shock at Scott's placement on the South Lawn, according to the Hill.
"There's ONE black person there and sure enough they have him standing right next to the mic like a manipulated prop," Ostroy tweeted, according to the Hill.
"Uh probably because I helped write the bill for the past year, have multiple provisions included, got multiple senators on board over the last week and have worked on tax reform my entire time in Congress," Scott responded on Twitter. "But if you'd rather just see my skin color, [please] feel free."
It may be true that Scott played a pivotal role in passing Trump's tax bill, but it's also true that Scott is the only black Republican currently serving in the U.S. Senate.
He's also one of just three black GOPers serving in both houses of Congress and one of only two black Republican senators to serve since the Reconstruction Era. That's two black people in the last 140 years. To be fair, only six black Democrats have ever served in the U.S. Senate and the first, Carol Moseley Braun (D-Ill.), wasn't elected until 1992.
Scott's Republican predecessor, the late Edward Brooke (R-Mass.), became the first black person elected to the U.S. Senate by popular vote in 1961. Brooke served two terms before losing his re-election bid to a white Democrat named Paul Tsongas after a divorce scandal that prompted a Senate Ethics Committee probe into Brooke's personal finances.
Scott himself was first appointed to the U.S. Senate in 2013 by then-Gov. Nikki Haley (R-S.C.) before winning re-election in 2016.
"Tim Scott is a standup guy," fellow black Republican and former U.S. House candidate Michel Faulkner said in a Thursday afternoon phone interview. "Tim Scott has met privately with the president. He would not allow himself to be used as a prop. He is much smarter than that."
Scott may not see himself as a prop, but Trump and the Republican Party have a history of alleged tokenism and disingenuous appeals to black voters.
The president has been accused of insincerely pandering to black Americans several times since launching his bid for the White House. He strangely posed for photos at Trump Tower with the likes of rapper Kanye West, NFL greats Jim Brown and Ray Lewis, and comedian Steve Harvey, supposedly to discuss "inner-city" issues. None of the listed people have any political or government management experience on their resumes.
The same was once true for accomplished neurosurgeon Ben Carson who himself questioned Trump's choice to appoint him as the head of Housing and Urban Development back in December 2016.
Carson was also "horrified" when his former Republican presidential campaign staff created a rap ad in 2015 to help build his support in the black community.
Trump hired Apprentice reality show co-star Omarosa Manigault to serve as director of communications for the White House's Office of Public Liaison. During his campaign, Manigault served as Trump's director of African-American outreach and she tried to build inroads between the president and black Americans during her White House tenure.
She resigned a day after Trump-endorsed Alabama Senate candidate Roy Moore lost his election largely due to Democrat Doug Jones' support from black women.
To date, there are no black people serving among Trump's senior White House staff, a void that chief of staff John Kelly began trying to fill on Tuesday. He met with black Republicans in Washington, D.C., only two days before Scott stood with his Republican colleagues on the White House lawn.
Do Trump and his fellow Republicans have a history of using black people as political props?
"Of course they do," Faulkner said. "But don't Hillary and Democrats do the same thing? White people have been doing that for years."